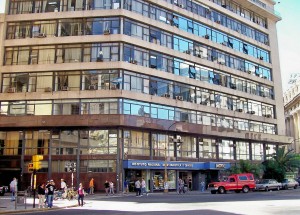 EspañolArgentina's economic crisis is having a direct impact on business executives. One in three now say they have laid off workers for lack of demand and low profits.
A survey of 165 large companies in Argentina indicated that 70 percent are not replacing staff; 24 percent are cutting overtime; only 18 percent have voluntary retirement plans; and only 10 percent are renewing temporary or short-term contracts.
The survey from Mercer, a human-resources consulting company, revealed that projected inflation of between 35 and 40 percent in 2014 and 2015 is set to cut away at the real salary of employees by between 5 and 10 percent.
"In this situation of stagflation, if the economy doesn't grow, sales and incomes don't grow either," affirmed Javir Tabakman, director of human capital for southern Latin America at Mercer. "As such, the workforce must be reconsidered," he said as he presented the study yesterday at the 23rd Human Resources Forum in Buenos Aires.
Another survey, published less than a month ago by SEL Consultants, suggested that 150 business executives would cut 3,800 jobs this year.
Data from a questionnaire circulated by the National Institute for Statistics and Censuses (Indec), the government's official source, confirms this trend: "[The unemployment rate] was 6.9 percent in 2012, 7.2 percent in 2013, and now it's 7.5 percent, according to INDEC," Tabakman explained. He cautioned also that most likely in the government sector "there are various employees who aren't actually working and are still counted as employed … that they are hiding a higher level of unemployment in Argentina."
Such a trend appears particularly problematic in light of a report published by the Argentinean Institute for Fiscal Analysis. In the last two years, the institute claims, the state has become the most common employer in the country.
Source: La Nación.