EspañolActress Mia Farrow has acknowledged that the public relations firm MCSquared PR, contracted by the government of Rafael Correa, paid her to visit the Aguarico 4 oil well and defend Ecuador in its legal battle with Chevron.
In Feburary 2011, an Ecuadorian court ordered the oil company to pay a fine of US$18 billion — later reduced to $9.5 billion — in compensation for alleged pollution resulting from oil extraction in the country.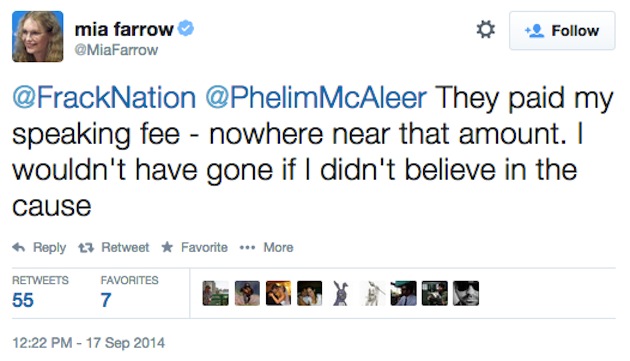 According to an investigation by the Washington Free Beacon, MCSQuared PR paid Farrow's talent agency, Greater Talent Network, a little over $188,000.
Farrow admitted via Twitter to having been paid a speaking fee, though claims the amount was "nowhere near" the figure cited in the Free Beacon article. Farrow deleted the tweet several hours later.
The payment to Farrow's talent agency was part of a $6.4 million contract between the Ecuadorian government and the PR firm MCSquared, according to documents filed with the US Department of Justice.
The documents also reveal a $330,000 payment to American Program Bureau, the agency that represents actor Danny Glover, who also visited Ecuador as part of the Correa administration's campaign against Chevron.
According to a statement on the oil company's website, "Chevron has never operated in Ecuador. Texaco Petroleum (TexPet), which became a subsidiary of Chevron in 2001, was a minority partner in an oil-production consortium in Ecuador along with the state-owned oil company, Petroecuador, from 1964 to 1992."
In March, a New York court determined the judicial proceedings in Ecuador were the result of fraud and racketeering activity, and ruled that the Ecuadorian court's decision was unenforceable.
Source: Washington Free Beacon.