EspañolOver 45,000 Hondurans will be deported from United States this year, according to a forecast by the Center for Returned Migrants (CAMR), a Honduran government agency located in San Pedro Sula.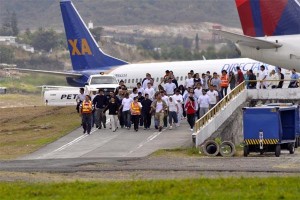 This would be the highest number of illegal immigrants sent back to the Central American nation since the US government began deporting Hondurans in 2000. So far in 2014, roughly 30,000 Hondurans have been expelled from the United States, an average of 3,200 a month.
If this trend continues, "more than 45,000 Hondurans will be deported from the United States [in 2014]," said Valdette Willeman, head of CAMR. This figure would exceed numbers in 2012 and 2013, when US authorities deported 32,340 and 38,342 Hondurans, respectively.
According to US Department of Homeland Security data, between October 2013 and August 2014, around 18,000 unaccompanied children were detained at the US-Mexico border, almost a three-fold increase from last year.
The increase in deportations has not impacted the flow of remittances returning to Honduras. According to data released by the Central Bank of Honduras, US$2.19 billion was sent to Honduras during the first eight months of 2014, an 8 percent increase over the same period last year.
Deportations are not exclusively a US concern. The Directorate General of Immigration in Guatemala reported that from January to August 2014, Mexican authorities expelled 31,953 Hondurans, 24,583 Guatemalans, 13,623 Salvadorans, and 621 Nicaraguans from Mexico.
Sources: El Heraldo, Entorno Inteligente.