EspañolOn Monday, the Permanent Council of the Organization of American States (OAS) announced plans for a comprehensive review of drug policy in the region. A draft resolution titled "Reflections and Guidelines to Formulate and Follow-up on Comprehensive Policies to Address the World Drug Problem in the Americas" will be presented at the 46th Special Session of the OAS General Assembly on September 19 in Guatemala City.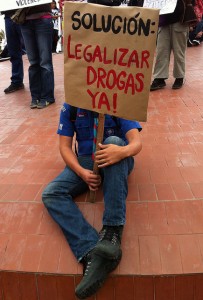 The Chair of the Working Group and Permanent Representative of Guatemala to the OAS, José María Argueta, explained that the resolution advocates for "the reduction of demand [and] supply, and cooperation from a hemispheric perspective."
According to Argueta, the draft "puts the individual, his or her dignity, and his or her social inclusion, at the center of public policies, so that those policies help to strengthen our social fabric, justice, human rights, health, local and national development, and security for our citizens."
"[The draft resolution] calls on member states to review their policies on drugs to address their national challenges, and also looks to establish an equilibrium between the actions of citizen security, public health, human rights and the reconstruction of the social fabric, as well as the establishment of measures, programs, and actions that address the needs of the victims of violence and crime, among others," said Argueta.
Secretary General José Miguel Insulza expressed his approval of the Council's resolution: "What we wanted to achieve was to remove this war on drugs; this never-ending war that led nowhere, that produced nothing, and that greatly affected our countries. We are achieving this, and I am very glad," said Insulza.
The secretary general went on to say that he believes this decision by the OAS demonstrates "the maturity of the region in the way we have moved forward on this issue."
Source: OAS.