EspañolThe Special Elections Board (JEE) of Lima, Peru, ruled Monday that former Mayor Luis Castañeda Lossio provided false information on his résumé, and will not be allowed to participate in the next election in October.
According a press release issued by the JEE, Castañeda was given three days to take his case to the National Elections Board (JNE) to appeal their decision.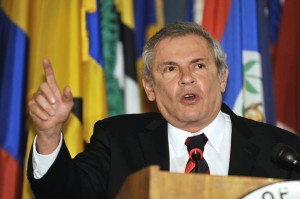 In an interview with Peruvian newspaper La República, legal expert Julio César Castiglioni confirmed that Castañeda can be barred from the election for providing false information. "This court will first have to assess the case, because it may have been a system error. Then they will make their decision, because he [Castañeda] lied, he didn't simply omit information."
The local election board said Castañeda willfully embellished his credentials as an attorney, falsely claiming to have received his credentials from a top university.
Manuel Miranda, JEE president, said he voted against the measure and believes Castañeda simply made a mistake when filling out the forms. "It will be up to the National Elections Board to make the final decision," said Miranda, after being outvoted by the other two members of his board.
Castañeda sucessfully ran for mayor of Lima in 2002, and for a second term in 2006. Prior to the board's ruling, Castañeda was considered the favorite to win the election in October, holding 57 percent of the electorate's support in recent polls.
Source: Infolatam, Wall Street Journal.