EspañolSalaries paid in bitcoin are gaining popularity in Canada. According to Wagepoint, a payroll firm based in Waterloo, Ontario, employees from 10 companies have chosen the bitcoin option to receive their wages.
Shrad Rao, Wagepoint CEO, says the bitcoin payment option started as a side project and did not expect much interest.
"When we started off, we didn't even think [we'd] get one," he told CBC News. "What's interesting is that we've actually had customers come to us because of [bitcoin] integration, which we were not expecting at all," he added.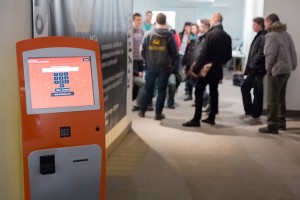 Rao notes that most of the employees being paid in bitcoin are working for tech companies, where workers show a higher interest in innovations and are familiar with the technology.
Canadians, however, are not the only ones interested. Wagepoint reported they get around five monthly inquiries from US-based companies, though the company has yet to develop a crpytocurrency option in that market.
The Canadian government does not treat bitcoin as a currency, so salaries paid with bitcoin are legally considered to be a barter transaction, explains Noel Carisse, spokesman for the Canada Revenue Agency.
"The goods — the bitcoin, in the case of digital currency — must be valued and reported in Canadian dollars," she said.
For tax purposes, employees are still paid in Canadian dollars "on paper." Taxes are paid before the remainder is converted to bitcoin, explained Rao.
While gaining in popularity, bitcoin-based payment systems have yet to break into the mainstream.
"Tech companies, I can see that," says Cissy Pau from HR Clear, a human resources company based in Vancouver. "But I just can't see that in, say, Canada Post, a more traditional-type company with more traditional-type workers. I would suspect that people will be highly skeptical."
Source: CBC News.