EspañolA new financial transaction tax is raising alarm in the Salvadoran business community. The measure, approved by Congress on July 31, establishes a 0.25 percent tax on financial transactions made by check, credit card, and wire transfer.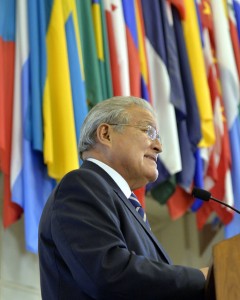 The new tax burden "creates a problem, an obstacle, and a risk," said Jorge Daboub, president of the National Association of Private Business. He feels El Salvador is "losing competitiveness" as a result of the legislation.
The initiative is part of fiscal reform package approved by the Legislative Assembly that also establishes a 1 percent minimum income tax on net assets of companies with more than US$150,000 in annual sales, which went into effect in August, a spokesperson for the Finance Ministry told EFE.
"What we want is the application of the law. We do not want to give any more extensions," Salvadoran President Salvador Sánchez Cerén said on Sunday in response to requests from the private sector to delay the effective date of the tax. Sánchez Cerén also clarified that the new taxes will not "affect low-income people."
ARENA Deputy Milena Calderón de Escalón expressed concern when the new tax policy was put to a vote. "An increase in taxes, which punishes businesses and is characteristic of this policy, is a tax on investment. They are distorting the Income Law. Businesses will be affected; they'll be forced to cut costs. And when we talk about cutting costs, we talk about unemployment," said the deputy.
For the president of the Salvadoran Chamber of Commerce and Industry, Luis Cardenal, the new tax "will produce … an impediment in the use of the financial system and its operations."
The tax increase will be accompanied by a waiver of interest and penalties that businesses have with the government of El Salvador. On August 23, Sánchez Cerén sent a bill to Congress that would forgive a portion of the $513 million private companies owe the Salvadoran government, although the details of the proposal have yet to be released.
Source: Caracol.