EspañolTense relations between Mayan Indians and the members of an Orthodox Jewish community in the town San Juan La Laguna, in the southwestern region of Guatemala, have led to the expulsion of 230 Jewish members of the ultra-Orthodox Lev Tahor movement.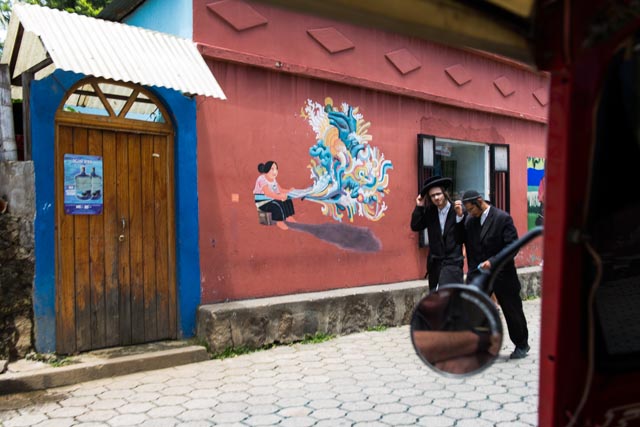 Lev Tahor followers have been living in San Juan La Laguna for at least six years, but the arrival of an additional Jewish contingent from Canada last March sparked new friction with the indigenous Mayan community.
The Jewish newcomers claim that they are relocating to Guatemala in search of religious freedom not enjoyed in Canada.
San Juan La Laguna's Council of Indigenous Elders, located some 150 kilometers from Guatemala City, reportedly threatened to cut off the religious community's power and water supplies and, if necessary, expel them by force.
"I don't understand why they don't want us; we haven't done anything wrong here," said Rabbi Uriel Goldman, leader of Lev Tahor in an interview with Reuters.
From the perspective of the Mayan village, the indigenous community has acted "in self-defense.… The [Guatemalan] Constitution protects us and we must conserve and preserve our culture," said Mayan Council Spokesman Miguel Vásquez.
Among the key grievances cited by the Mayan community against the Jewish migrants are a "predatory behavior," failure to uphold a commitment to "not bathe naked in public areas," and a suffering tourism industry.
"They don't believe in Jesus Christ and the Virgin Mary. They don't work, they dress in black, and they drive away tourism profits that are very important to us. They also don't sleep at night, and instead walk around in the streets when everyone is sleeping," said Vásquez.
The Office of Guatemalan Human Rights released a statement affirming the government "rejects the threats against the Jewish community and asks that the authorities promptly begin their investigation of the situation. [The Government] regrets that the Jewish community has been forced from their home. "
The more than 30 Jewish families evicted from San Juan La Laguna have temporarily relocated to Guatemala City, where they await their fate. Meanwhile, they have expressed their desire to remain in Guatemala.