EspañolOn Tuesday, Nicaraguan Ambassador Carlos Argüello addressed the International Court of Justice at the Hague regarding his country's pending lawsuits with Costa Rica and Colombia. He told the court that their allegations were unfounded and an attempt to capitalize on a canal that this still in the planning stage.
"Colombia and Costa Rica's claims have the same goal, and that's to take away any possibility of Nicaragua controlling a canal. That is the origin of all of this," Argüello said.
Nicaragua's concern is that the lawsuits brought forth by Costa Rica and Colombia against the government of Daniel Ortega will obstruct plans to begin construction on the inter-ocean canal. According to plans presented by the Chinese architect in charge of the project, construction is set to begin at the end of this year and be completed by 2019.
Argüello suggested that Colombia's lawsuit is designed to "get thousands of kilometers closer to the Caribbean maritime border, which will give them access to a huge and very important source of capital that they have sought for decades." Argüello stated that the ICJ will release their final ruling on the limits of Nicaragua's maritime borders with Colombia by November.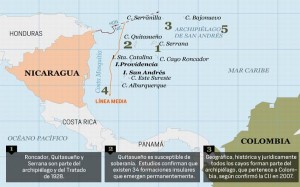 Meanwhile, President Juan Manuel Santos announced that Colombia only appealed to the Hague after Daniel Ortega sought to expand Nicaragua's maritime borders all the way to the port of Cartagena. Santos said that Nicaragua's demand, made last September, indicated an impermissible first step in an effort to obstruct Colombia's land borders as well.
Costa Rica is also disputing with Nicaragua over its maritime borders in hopes of limiting its widening reach on both the Caribbean and Pacific sides. The countries have been negotiating borders since 2002, when Nicaragua published a map of petroleum concessions in Costa Rican waters.
Sources: Caracol, El País Colombia, BBC Mundo.