EspañolOn Wednesday, a plane crash in Santos, Brazil claimed the life of Brazilian Socialist Party presidential candidate Eduardo Campos.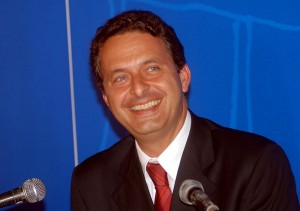 According to sources within Campos's campaign, the plane crashed in a residential area as it prepared for landing, killing six other people, including both pilots, the campaign's press officer Carlos Percol, and photographer Alexandre Severo. Campos's partner, Marina Silva, was not aboard the plane.
Campos, dead at the age of 49, was governor of the state of Pernambuco and a former ally of current Brazilian President Dilma Rousseff. According to recent polls, the candidate was in third place with 9 percent, well below Rousseff's average of 38 percent. Presidential elections in Brazil are scheduled for October 5.
The governor had strong support in his native region of northeastern Brazil. Campos positioned himself politically as a social democrat, representing a middle ground between opposition candidate Aécio Neves and President Rousseff.
Rousseff currently does not have enough support to win reelection in the first round, and will likely face Neves, polling at 23 percent so far, in a second round of voting.