EspañolThe Supreme leader of the Revolutionary Armed Forces of Colombia (FARC), Rodrigo Londoño (AKA "Timochenko" or "Timoleon Jiménez"), announced on Monday in an interview posted on the guerrilla's official web site that peace negotiations with the central government of Colombia will not be concluded this year. Londoño says the complex nature of the agreements left to be made will extend these talks beyond 2014.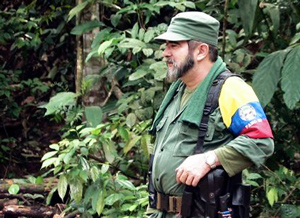 "It's easy to conclude that this year's deadlines will not be met," said Londoño. "It needs to be taken into account that the issue of a ceasefire and surrender of weapons will not be easy."
"We have insisted on the need to establish a bilateral ceasefire, which the Santos administration has rejected. We have no intention of absorbing the death of the another member of the secretariat (FARC ruling body), unless it is of natural causes," Londoño continued.
President of Colombia Juan Manuel Santos — recently sworn in for his second term in office — declared at beginning of 2014 that the peace process that has gone on since 2012 in Havana, Cuba could be concluded by the end of the year.
Since negotiations began, both sides have only come to agreements on issues surrounding land access for farmers, certain guarantees for guerrilla members to become involved in the political process, and items related to drug trafficking. Among the complex issues left to negotiate are reparations for the guerrilla's victims and the approval of the peace agreements by the Colombian people through referendum.
Despite the peace process, the Colombian army and the FARC continue fighting in the mountains and rainforest of Colombia. Nevertheless, Londoño states it is the intention of the FARC, and its more than 8,000 rebel fighters, to achieve a long-lasting peace agreement.
Source: Reuters.