EspañolColombian President Juan Manuel Santos has threatened to cease peace negotiations with the Revolutionary Armed Forces of Colombia (FARC) after confirming the rebel group attacked the Buenaventura Port on Monday.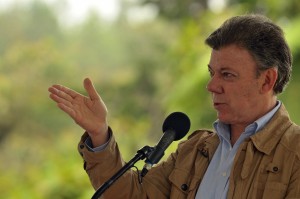 President Santos, reelected in June, referred to the incident that has left 400,000 people in the area without power as a "completely reprehensible terrorist attack." President Santos ran for reelection with the promise of achieving peace with the FARC, however, both sides have yet to reach an agreement that includes the "cessation of hostilities."
This is not the first time that the FARC orchestrate an attack on the country's infrastructure affecting civilians. Recently, the guerrilla took down an aqueduct in the Meta department, leaving 60,000 residents without drinking water.
"What we are saying is, if you all continue with this, you are playing with fire. This [peace] process can be terminated," Santos warned.
The Colombian president has been holding negotiations with the FARC for roughly 20 months in Havana, Cuba, but Santos has refused to sign a "ceasefire" agreement proposed by the guerrilla.
"There is no ceasefire because I do not want to end up a former president who tried a peace process, failed, and strengthened the guerrilla," said the president.
Criticism over the peace process with the FARC has increased over the last few months as attacks against the country's infrastructure have intensified.