EspañolWednesday, July 23, marks the first day of the trial against Leopoldo López, an opponent of Nicolás Maduro's regime in Venezuela. López is accused of sparking a wave of protests and anti-government violence in February that resulted in 43 casualties. If the court finds him guilty, he could face up to 10 years in prison.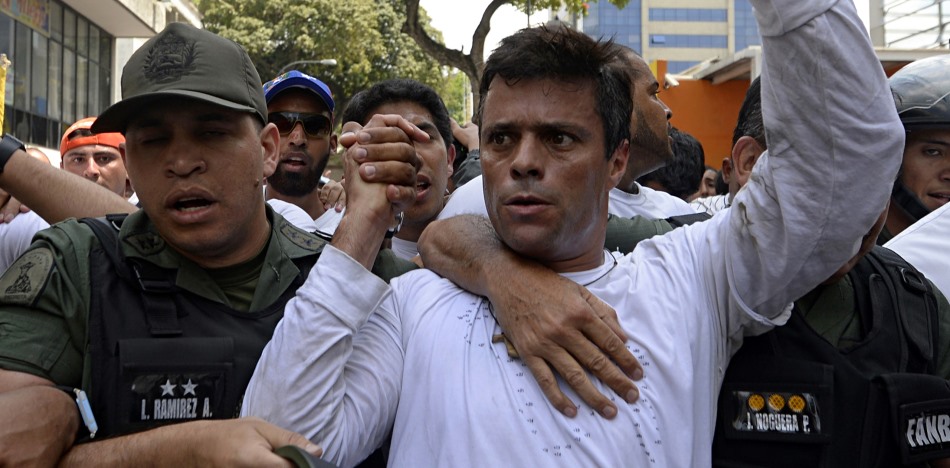 López, a 43-year old politician, is a Harvard graduate and leader of the Popular Will party. The Venezuelan prosecution has accused him of "breaking the law through arson, disturbing the peace, and conspiracy" during the opposition protests that intensified in the beginning of February in various regions of Venezuela.
On February 18, López voluntarily turned himself over to the Venezuelan police and has since been held in the Ramo Verde military jail, located two hours outside Caracas.
López's defense requested that the trial be postponed last week after they did not accept the evidence presented. Juan Carlos Gutierrez, López's attorney, reported that the court is violating even the most basic legal guaranties, and does not expect a fair trial.
"We have not been able to prove, and will not be able to prove Leopoldo's innocence under these indefensible court conditions. God willing, the evidence is weighed fairly and justice is properly applied under conditions that allow for and equal and due process of law, a fundamental value of criminal justice," said Gutierrez.
Meanwhile, Lilian Tintori, Leopoldo López's wife, turned to Washington D.C. on Monday to denounce the human rights violations that her husband has suffered. She insisted on the need for the international community to pressure Nicolás Maduro to release all political prisoners.
Tintori has also visited Colombia and various European cities, such as Madrid, Paris, and Rome, where she was welcomed by Pope Francis, the head of the Catholic Church. After her D.C. visit, Tintori will head to Buenos Aires, Santiago de Chile, and Rio de Janeiro to continue her international campaign on behalf of her husband's release.
Sources: Últimas Noticias, Leopoldo López.