Español US Judge Thomas Griesa, in charge of the case between the Argentinean government and the so-called vulture funds, yesterday denied an interim measure to suspend his judicial decision. It mandates that Argentina's central government pay a debt of US$1.33 billion with the US investment funds NML Capital and Aurelius.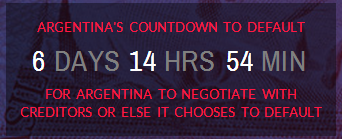 The government alleges that due to the latest decision it will be unable to pay the creditors who accepted the debt restructuring proposals of 2005 and 2010. Earlier this July, the government tried to make a payment of $539 million to these parties with altered terms, but Judge Griesa considered this illegal and rejected it.
After the judicial setback, President Kirchner today decided to send a new negotiating mission to New York, to find an exit to the conflict and avoid a technical default expected in six days, on July 30. Officials from the Ministry of the Economy will be part of the committee, but their boss, Minister Axel Kiciloff, will remain in Buenos Aires.
From Argentina, Cabinet Chief Jorge Capitanich offered a press conference in which he restated Argentina's official position: "To default it is not to pay, and Argentina pays. The money deposited belongs to the bondholders of the restructuring process, and the judge must allow the legitimate owners to get their money." According to Capitanich, the US judge "didn't solve anything. After more than two hours of hearings, he solved nothing."
A press release by the the American Task Force Argentina (ATFA), an umbrella organization representing the interests of those creditors in conflict with Argentina, says the country will default "unless its leaders decide to begin behaving in a constructive, accountable manner." At the AFTA website, a countdown until July 30 can be seen, the day that Argentina will default on their obligations, unless they find a way to resolve the situation with the funds.
Source: La Nación.