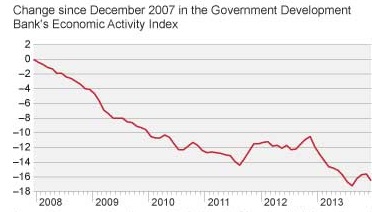 In February, the three major bond ratings agencies cut Puerto Rico's general obligation bond ratings down to "junk territory." Moody's, Standard and Poor's, and Fitch Ratings unleashed a new wave of downgrades responding to the government of Puerto Rico's passage of the Recovery Act. The new law allows public corporations to restructure their debt through a legal procedure similar to filing bankruptcy.
Government officials had argued that this law was designed to allow financial institutions to manage their fiscal problems without adversely affecting public services. They also said it would shield the central government and the General Development Bank (GDB) from financial difficulties.
However, credit rating agencies have taken the Recovery Act to mean Puerto Rico has broken its promise to repay its debts in a timely fashion. Puero Rico's debt was downgraded across the board, including the island's Sales Tax Financing Corp. debt, backed by the Sales & Use tax (IVU) and its general obligation bond debt.
According to the quarterly report the GDB issued on Friday, if downgrades of the island's non-investment grade credit ratings continue, it could continue to raise the commonwealth's cost of borrowing. The market price of outstanding bonds could be affected as well, and the island's financial condition could worsen.
"The commonwealth may not be able to honor all of its obligations as they come due if it does not have sufficient access to the capital markets or alternative sources of financing to satisfy its liquidity needs, or as a result of the challenges and risk factors identified in the commonwealth report or others not described therein," stated the report.
On the other hand, La Fortaleza Chief of Staff Ingrid Vila and Treasury Secretary Melba Acosta stated that the media was unfairly focusing on "worse-case scenarios" in the GDB's report.
"Our fiscal and economic situation is delicate, but we are responsibly taking and will continue to take all necessary steps to continue spurring the economy and jobs creation, restore fiscal health, and, above all, continue providing the services that our citizens need," said their joint statement.
Source: Caribbean Business.