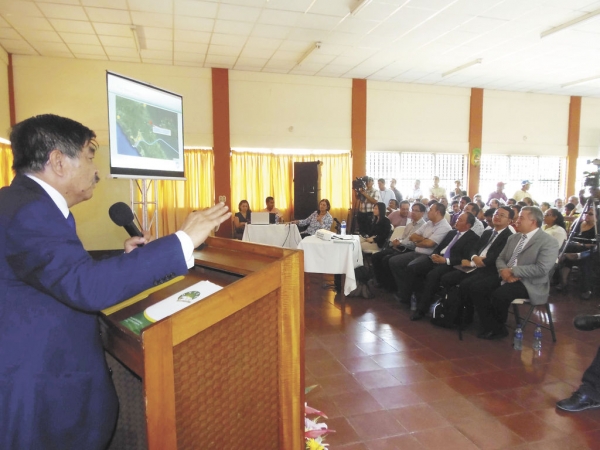 EspañolOn Tuesday, Nicaraguan officials revealed further details about the construction of an inter-ocean canal that will cut across the country. The route extends from the southeastern coastal city of Brito, to the mouth of Punta Gorda river in the Caribbean, passing through more than 105 kilometers of Lake Nicaragua.
The Great Canal Commission and representatives of the Chinese HKND Group offered new information on the developing project. Telémaco Talavera, a member of the commission, answered lingering doubts regarding territorial jurisdiction and stressed the canal route would continue to be Nicaraguan, not Chinese, territory.
Talavera announced that work will begin in December with the construction of a port in Brito, where the machinery for the rest of the canal's development will access the country. The work is set to conclude in five years.
The project will also include the construction of bridges which will connect the highways that the canal will cut through. The complete project includes: two ports, an airport, a free trade zone, a tourist center, and road development.
Indigenous leaders from the southern Caribbean coast of Nicaragua protested against the canal's construction while the meeting was taking place. Wilfredo Sánchez, secretary of the Indigenous Monéxico Council of Nicaragua, an indigenous umbrella organization, claimed that indigenous groups risk losing their natural resources and cultural heritage as a result of the project. Authorities, however, have not yet responded to the group's concerns.
Another concern brought up at the meeting was the potential contamination of Lake Nicaragua with salt water. Talavera replied that a set of floodgates will prevent this from happening.
The Nicaraguan government estimates the project will cost approximately US$40 billion, however HKND has not yet confirmed this figure.
Sources: La Prensa, El Diario de Hoy.