Español On Sunday, a delegation of seven US congressmen attended a meeting in Tegucigalpa, Honduras, to address the issue of increased illegal immigration to the United States. The meeting was organized by Honduran President Juan Orlando Hernández, who said he believed Central Americans were fleeing in greater numbers because of increased violence in the region and a misunderstanding of immigration reform in the United States.
"The causes that drive the intense migration from Central America's Northern Triangle (Honduras, El Salvador, and Guatemala) have changed," said Hernández. "There is a complex mix, such as violence, organized crime, and a lack of reliable information about immigration reform in the United States," the president added.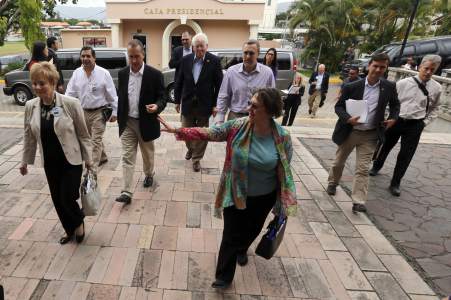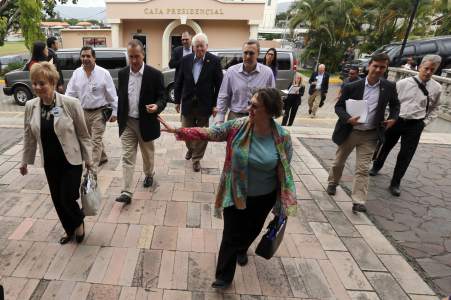 After the meeting, a senior representative of the Honduran government, Jorge Hernández Alcero, read a press release stating that 29 percent of migrants to the United State are from Honduras. He added that 70 percent of those migrants are fleeing organized crime resulting from the illegal drug trade.
"For every nine minors that cross the border, seven are from Honduran cities located on drug-trafficking routes. Those cities are among the 30 most violent municipalities in Honduras," said Hernández Alcero. The minister also explained that the president sees this crisis as a humanitarian one, and it is being treated with a holistic approach.
Kay Granger, a Texas Republican and chair of the House Appropriations Subcommittee on State-Foreign Operations, led the delegation of US representatives.
Other congressmen in attendance included John Carter (R-TX), David Price (D-NC), Mario Díaz-Balart (R-FL), Henry Cuellar (D-TX), Steve Pearce (R-NM), and Matt Salmon (R-AZ).
After the meeting, the congressmen visited one of the 40 institutes sponsored by the US government designed to prevent violence and develop more opportunities for young people in the region.
Sources: El Nuevo Diario, La Prensa, El Heraldo.