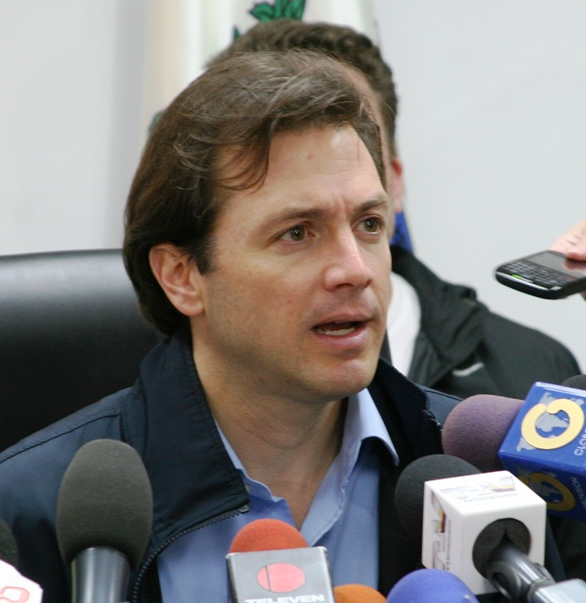 The president of the National Assembly, Diosdado Cabello, announced on Thursday evening during his televised show that a complaint will be filed against the mayor of Chacao, Ramón Muchacho. He claims Muchacho engaged in "treason" by allegedly orchestrating a smear campaign against Venezuela while overseas.
The Chavista leader presented a series of videos in which Muchacho and National Assembly Deputy Julio Borges criticized the government of Nicolás Maduro. While attending a conference ​last week ​in Madrid, Spain, Muchacho criticized officials loyal to President Maduro for their persecution and harassment of the opposition.
"It is irresponsible and cynical to so disrespectfully accuse President [Maduro], when he [Muchacho] was the one calling for violence in the first place," said Cabello. He accuses Venezuela's "right-wing" politicians, like Muchacho and María Corina Machado, of being responsible for the violence stemming from protests that swept the country in February and has left more than 40 dead.  After failing to topple Maduro's regime, Cabello argues, the opposition launched an international, anti-Maduro, propaganda campaign.
Venezuela's Politicized Army
The president of the National Assembly then went on to justify the recent Venezuelan Supreme Court ruling authorizing army participation in political affairs. He said that "the bond between the people and the Bolivarian National Armed Forces (FANB) fulfills the socialist nation" conceived by the late Hugo Chávez.
In his weekly show, broadcast by the state-run Venezuelan Television Corporation, Cabello highlighted the advantages of the civil-military union since the advent of the Bolivarian Revolution in Venezuela.
"Chavismo is a doctrine purposefully planted and germinated in the FANB and in the people of Venezuela, which shows that commander Chávez was not improvised, but a great politician, a statesman," he said. FANB officers now will "become both military and political actors, taking up the role of building socialism."
"Chávez put forward socialism, made ​​us understand that this is the way to go. He explained it to the people, and then reflected all this in a document, the Nation's Plan," Cabello explained.
Source: El Universal.