EspañolThis week Washington became the second US state to legalize the purchase of recreational marijuana without a medical prescription. The change in the law comes after Colorado had modified theirs to expand allowed use.
Even though there were more than 2,600 requests for licenses to sell recreational forms of the drug, just under 100 were granted. In fact, only 10 applicants were ready to harvest crops this month, since the first 24 licenses were handed out on Monday.
The first customers arrived at 8:00 a.m. local time on Tuesday at Bellingham's Top Shelf Collective, north of Seattle — one of the few shops that managed to open for business as soon as the legislation came into effect.
The new law allows the sale of 28 grams of dry marijuana, 450 grams of substances containing marijuana extracts, 2.1 liters of liquids that contain marijuana extracts, and 0.7 grams of concentrated marijuana. The sale of the controlled substance and its related products is prohibited to anyone under 21.
Officials expect the drug will sell at US$25 per gram, double of what unregulated medical marijuana costs. This is due to the still limited available supply produced in Washington.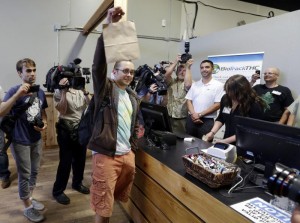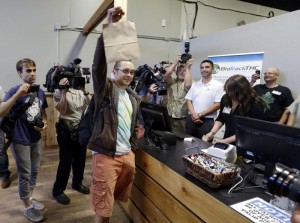 The legalization of marijuana was approved back in November 2012. However, over the last 20 months, several measures had to be taken to facilitate its implementation as well as to create a state-regulated system for its production, sale, and taxation.
The state of Colorado, the first state to pass this kind of law, had already designed and established a regulated medical-marijuana system of production. This made their transition toward legal recreational marijuana much smoother.
In contrast, no regulated system for medical marijuana existed in Washington. Authorities in the northern state had to start from scratch and write laws according to their industry and the requirements of their population.
Some of the provisions included in the law require that: packaging of marijuana products must be child-safe; individuals applying for a license must undergo background checks; shops will need to have specific security systems; and the fields where the plant is to be produced, as well as the methods of cultivation, will likewise be tightly controlled.
Source: Infobae.