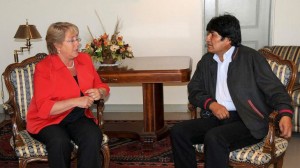 EspañolPresident of Chile Michelle Bachelet announced on Monday evening that her administration will challenge the authority of the International Court of Justice (ICJ) to rule on a lawsuit Bolivia filed against Chile to gain access to the Pacific through Chilean territory.
"After a consultation process … I have made the decision to lodge an appeal against the ICJ's authority, by presenting preliminary objections on that court's jurisdiction," said Bachelet during a speech broadcast by radio and television.
President Bachelet seeks to avoid the sort of ruling the ICJ handed down in the case of Chile's maritime boundary with Peru, in which Chile was forced to give up part of it's coastal strip. Bachelet said that preliminary objections will be presented to the court before July 15.
"This decision is based … on the unyielding defense of our territorial integrity and national interests. These interests are fully in line with the essential principles of international law and diplomatic relations between states, including the inviolability of treaties and border stability," said Bachelet.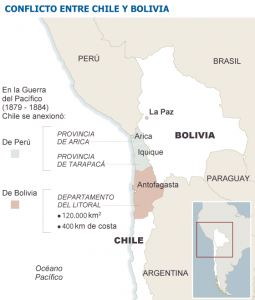 Bolivia, which lost sea access in a war against Chile in 1883, presented legal documents regarding the case to the International Court of Justice (CIJ) of The Hague in April. Chile has until February 2015 to file an official response, but officials plan to present objections this month, aruging there are no pending disputes on its borders.
Chile argues that its border with Bolivia was settled through a treaty signed by both nations in 1904. As a result of that agreement, Bolivia lost 120 kilometers of coastline and around 120,000 square kilometers of a territory that contains a large part of the world's copper reserves.
Both nations have discussed a possible sea access route for Bolivia for years, but these negotiations have not been successful thus far.