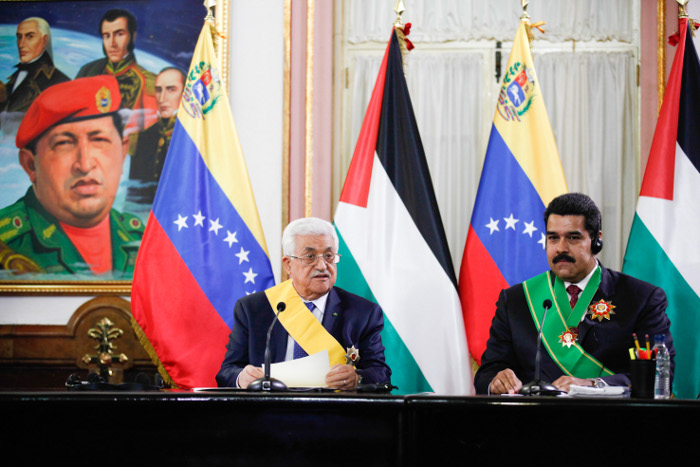 Venezuela will soon send its first shipment of crude oil to Palestine, as reported by the Palestinian newspaper Ma'an on Monday. The two governments agreed that Venezuela will sell its oil to Palestine at "reduced prices" for the next five years.
Palestine currently receives its oil supply from Israel, but it is heavily taxed. Venezuela, a country with the largest supply of crude oil in the world, will provide it at a lower rate. Its first shipment will contain 240,000 barrels of crude oil and will reach Palestine via Jordan or Israel.
The decision was based on negotiations between Venezuelan President Nicolás Maduro and National Palestinian Authority (ANP) leader Mahmud Abbas in May during Abbas' visit to Caracas — his third in the past five years. In addition to oil, the two discussed Palestine's status and Palestine's relationship with Latin America.
During his three-day visit to the South American nation, Abbas thanked Maduro for his support. "Thank you Venezuela for helping to break the monopoly that Israel has over our economy. Thank you Venezuela for responding to our needs. Thank you Venezuela for being available to continue to lend the Palestinian people more support in their fight," said Abbas.
Maduro reiterated his support for Palestine and its desire to be a fully independent state. "We welcome the Palestinian people and the Arabs. Our people support your right to a land of prosperity. Today, Petro Palestine has been born," Maduro said.
Maduro also agreed to support the Palestinian Authority's request to be granted observer status in three Latin-American organizations: the Union of South American Nations (UNASUR), the Bolivarian Alliance for the Peoples of Our America (ALBA), and the Community of Latin American and Caribbean States (CELAC).
Venezuela under Chavista rule has been a vocal supporter of the Palestinian cause in the international community, advocating Palestine's recognition as a sovereign state and sanctions against Israel.