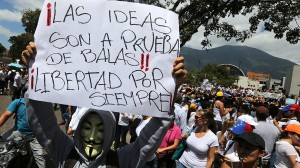 EspañolOn June 25, Venezuela's Gazette No. 4,440 officially created the Special Brigade against Groups Inciting Violence (BEGV), a new branch of the Ministry of Interior, Justice and Peace. The document describes it as a "decentralized" body with budgetary, administrative, financial, and operational autonomy.
The Brigade's goal is to "coordinate, evaluate, organize, direct, implement, and collect information from the state's public safety and intelligence agencies, and from other public and private entities, in order to neutralize and control the actions of groups inciting violence."
President Nicolás Maduro has repeatedly characterized opposition protesters and student groups as violent and fascist, among other epithets.
The creation of this body is in line with the Bolivarian National Police and the National Guard's crack down on citizens who oppose Maduro.
The presidential decree which legalizes the Brigade also mandates that the agencies of Public Safety, Defense, Intelligence, Internal Order, Foreign Affairs and public and private institutions will be required to provide information to the BEGV. It further adds that "unforeseen" duties of the Brigade will be decided by the head of the ministry of Popular Power.
Sources: El Universal, El Nacional.