EspañolOn Monday, opposition leader María Corina Machado arrived at the Attorney General's Office of Venezuela to testify in response to allegations of her involvement in a plan to assassinate President Nicolás Maduro. The former deputy was accompanied by her lawyers and Lilian Tintori, the spouse of arrested opposition leader Leopoldo López.
En camino a Fiscalia;armada con mis principios y acompañada d la solidaridad d millones d ciudadanos q no se doblegan

— María Corina Machado (@MariaCorinaYA) June 16, 2014
Venezuelan officials summoned Machado for questioning for crimes "against the nation's independence and security" and criminal conspiracy, based on the Law against Organized Crime and Terrorist Financing.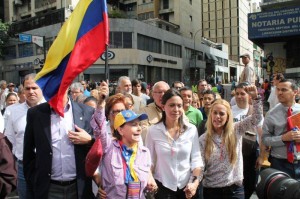 In late May, the leader of the ruling United Socialist Party, Jorge Rodríguez, accused opposition leaders of preparing "a complex plan to end peace" in Venezuela, which included the assassination of Nicolás Maduro and a "coup," allegedly defused by the government. Rodríguez presented as evidence a list of emails that linked Machado and others legislators and businessmen. In one of the emails, she is alleged to have said it was time to combine efforts and obtain funding to "take out Maduro."
Machado, who in turn filed charges against Rodríguez at the Attorney General's Office, has stated that the messages belong to her account, but that they are forged. She made it clear that her intention was not to kill the president or stage a coup, but to demand Maduro's resignation from office.
Source: Infobae América.