EspañolVenezuelan authorities announced that Nairobi Pinto, head of correspondents for the Globovisión network, was found yesterday at dawn in perfect health, eight days after she was kidnapped. During a press conference, the journalist thanked God for giving her strength and allowing the kidnapping to come to a "happy ending." She also thanked "every one of you [fellow journalists] because you were present throughout this nightmare, [the kidnappers] always read the news you were reporting out loud for me."
The rescued journalist said the kidnappers "treated her well," gave her three meals a day, and did not speak in front of her. She added that she could not see the faces of her captors, since she was blindfolded the whole time she spent in captivity.
According to Interior Minister Miguel Rodríguez Torres, the victim remained in Miranda state the entire time, and said that Pinto "is going back home safe and sound, and we are ready to provide her with all the security she needs for her life to go on as usual."
The minister stated that while they are considering several hypotheses as to who was responsible for Pinto's kidnapping, it is still too early to discuss it. "I cannot be irresponsible," concluded Torres.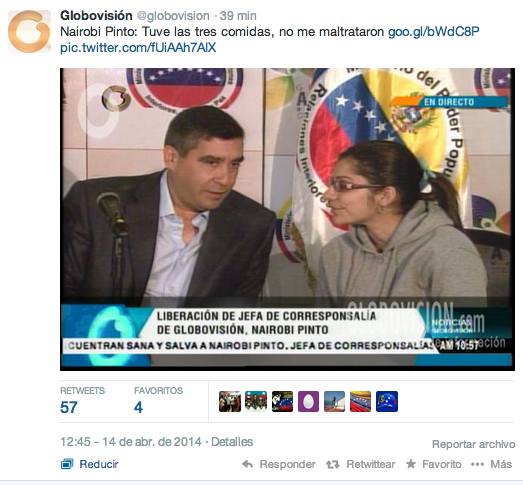 Source: Globovisión.