EspañolThe bodies of Gustavo Giménez and Luis Daniel Gómez appeared on Sunday in Caracas, after presumably being kidnapped and murdered on Saturday night, as reported by Chacao Mayor Ramón Muchacho. Giménez was the brother of Mariana Giménez, ex-wife of Sucre Mayor Carlos Ocariz, while Gómez was the childhood and long-time friend of political prisoner Leopoldo López.
Venezuela's Criminal Investigations Corps (Cicpc) descended on the location on Sunday to perform the corresponding report, and limited details suggest that both were riding bikes in the Waraira Repano National Park at the moment they were abducted.
Carlos Ocariz expressed his deep sorrow via Twitter and begged for the end of violence.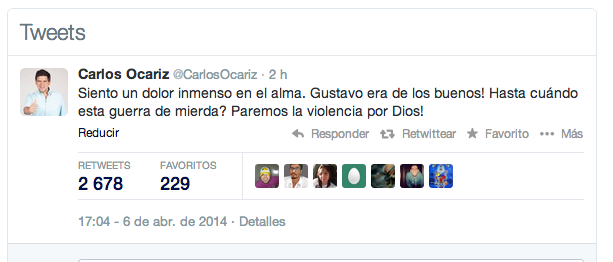 Source: El Universal.