EspañolLeopoldo López, former mayor of Chacao and leader of the Popular Will Party (Voluntad Popular), whose arrest was personally ordered by Venezuelan President Nicolás Maduro last Thursday, announced today that he will surrender to the authorities on Tuesday, February 18.
López made his announcement through a video sent to media outlets via Twitter on Sunday evening. The video shows the young Venezuelan leader speaking from an undisclosed location, and it was carefully edited to avoid any possible detection of his whereabouts.
The Venezuelan government has accused López of inciting violence and destruction of property after a peaceful demonstration led by him. The event consisted mostly of university students from all over Venezuela and was followed by violent confrontation with police and the government's armed civilian militias. That led to three deaths, including two students and one Chavista vigilante.
Despite multiple photos and videos showing police and militias firing live ammunition at the students, the government has been keen to show that López's followers provoked the violence.
López, who prior to the demonstrations stressed to his followers the need for discipline and nonviolence, denies the charges and points out that "The government has the monopoly on weapons." A scion of one of Venezuela's most prominent families and a direct descendant of Simon Bolívar's sister, López stated that he "has broken no laws and should have nothing to fear."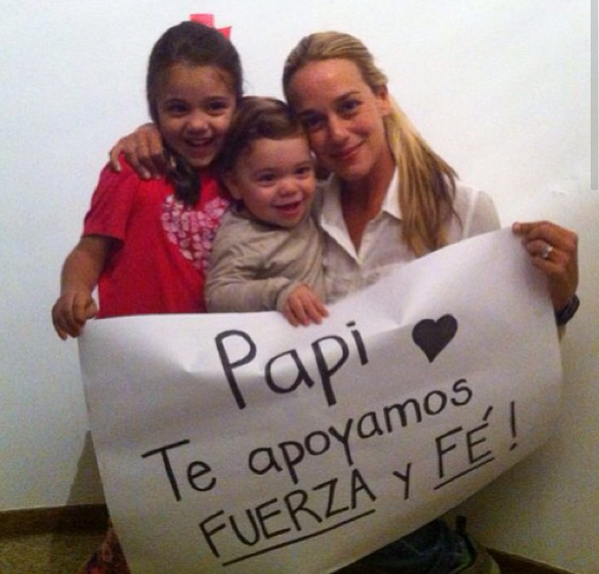 "Maduro," López said over the weekend, "I'm telling you, you are a coward. You will not make me nor my family surrender. To my family [pictured]: be strong, I love you."
Te lo digo Maduro, eres un cobarde. Ni a mi familia ni a mi nos vas a doblegar. A mi famila: fuerza, los amo.

— Leopoldo López (@leopoldolopez) February 16, 2014
The Human Rights Foundation also "strongly rejects the arrest warrant hurriedly issued [on Thursday] against . . . Leopoldo López on charges of 'murder' and 'terrorism' linked to the deadly protests, as it is not an indication of good will and impartiality in the government investigation and instead threatens to escalate the violence."
Both Maduro and his predecessor, Hugo Chávez, have in the past perceived López as a dangerous opponent, and this has led to legal battles. López was mayor of Chacao from 2000 to 2008 and received an award from Transparency International for his performance. However, three years ago — as López sought the opposition candidacy for president — corruption charges brought against him earlier by the government precluded his candidacy on legal grounds.
He took his case to the Inter-American Court of Human Rights, and in 2011 won. The court ruled that Venezuela's government would have to reestablish López's political rights. However, even though the National Electoral Council accepted this order, Venezuela's Supreme Court of Justice declared that the ruling was "non-executable." The court clarified that his ban was not political, but administrative, so he could then be elected, but not manage state resources.
In the video, López invites people to join him for a march on Tuesday to the Attorney General Office. The primary demands will be: an investigation of last Wednesday's events, the immediate release of all detained students from recent demonstrations, an end of the persecution and repression to those who protest, and the disarmament of government vigilantes or guerrillas.
"I'll invite you to march up to a certain point, and from there," he says, "I'll walk alone and submit these petitions. I don't want the life and security of any compatriot to be at risk. Today, more than ever, let's take on the future that belongs to us. We are on the right side of history."