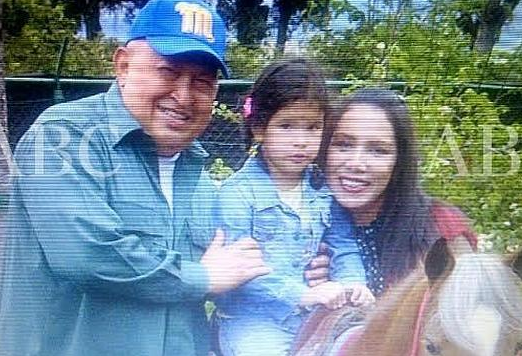 New photos suggest that Hugo Chávez was the father of Sara Manuela, daughter of Nidia Fajardo Briceño, who for a long time served as a flight attendant aboard Venezuela's presidential plane. The photographs obtained by ABC.es show great familiarity between the girl, her mother, and then-President Chávez. Those who know the mother and daughter say Sara Manuela, age five, was the fruit of that relationship.
Chávez earned a reputation for sporadic relationships outside his two marriages. Genesis Mary, daughter of another woman and currently eight years old, was recognized by Chávez several years after her birth in 2005.
Fajardo says she doesn't want there to be "one group of first-class heirs and another second-class," arguing that it goes against "the flag of protecting women and children" that's instilled in the very Constitution promoted by Chávez himself.
Source: ABC.es.