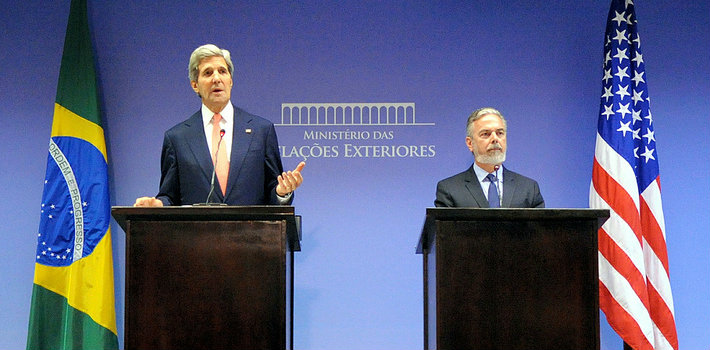 Brazil's Foreign Minister, Antonio Patriota, has claimed that the NSA's actions "risk casting a shadow of distrust" on the growing bilateral agenda with the United States.
The US National Security Agency (NSA) surveillance practices are a "new type of challenge" to our ties, said Patriota. Clarification is not an end in itself, he said, and that such practices, which violate individual freedoms, must be discontinued if sovereignty and a positive relationship are to be respected.
"We're not surprised" with questions and "Brazil is owed answers and will get them," US Secretary of State John Kerry affirmed during the joint news conference in Brasilia on Tuesday.
"We will guarantee that Brazil and other countries will understand exactly what we're doing, why and how, and we will work together to make sure that whatever is done" respects our friends and our partners, he added.
Patriota reminded the audience that the United States would never find a better partner in the fight against terrorism. He added, international partnerships when done transparently promote trust. On the other hand, a lack of information weakens trust.
Sources: US Department of State (Brazil) Read More » US Department of State (Colombia) Read More »