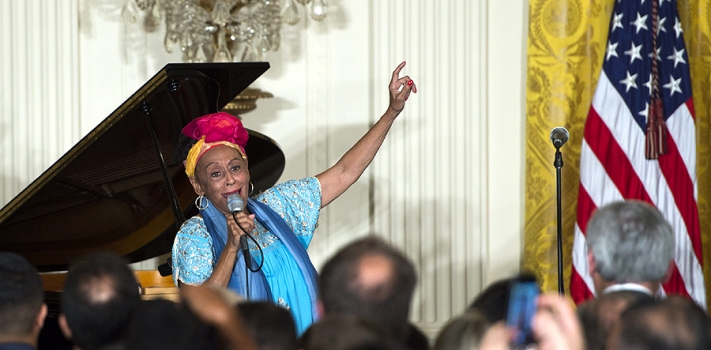 EspañolEighty-year-old Omara Portuondo traveled all the way from Havana to DC to perform a 20-minute salsa concert alongside the Buena Vista Social Club for Barack Obama. The president, however, shook her hand and exited the West Wing before the show was over.
Perhaps Obama's advisers, after a quick Google search on Portuondo, passed him a last-minute tip, instructing him to avoid too many photographs with a woman with blood on her hands.
Nevertheless, the two are clearly made for each other.
Message from Havana
On April 19, 2003, 27 public figures signed and released an outrageous document called "Message from Havana for Far-Away Friends." Without knowing the context behind the message, or the situation in Cuba at the time, the short and cryptic letter doesn't say much.
Fidel Castro himself wrote the 285-word message, while he was still in office. Cubans know his nasty style all too well, and can readily recognize his poisonous metaphors against anything having to do with the United States: the "anti-Cuban propaganda machine"; the "great campaign seeking to isolate us"; the "superpower attempting to impose their fascist dictatorship on a global scale."
He even inserted a reminder of "the defeat of the mercenary Bay of Pigs Invasion," and the excuse that "Cuba has been forced to take energetic measures we naturally did not wish to take." By signing their names to this document, some 20 white Cubans validated the death sentence summarily pronounced against three black Cubans, who had already been executed earlier that month.
Among those who rushed to endorse this document were Cuban authors, actors, film directors, painters, singer-songwriters, and the performer Omara Portuondo.
The Castro Revolution restored capital punishment in Cuba as soon as they took power in January 1959, even though they enforced it generously during the guerrilla years. Biopolitics has always underpinned Cuban communism: whoever truly opposes the regime — not with petty online denunciations or childish marches — must go into exile or die. In some cases, both.
Over a decade later, one-third of those 27 public figures have passed away, and another handful are well on their way out of this world. The rest of them may as well be dead, since the public regards them with such disdain for betraying a nation screaming for freedom, and for endorsing the self-imposed transition to Castroism without Castros — or worse yet, with second- and third-generation Castros.
Two weeks before executing the three innocent black Cubans, Fidel Castro used George W. Bush's war against Saddam Hussein as an excuse to incarcerate dozens of members of the Cuban opposition during the Black Spring.
Portuondo and the other 26 who signed the "Message from Havana" endorsed the fates of these peaceful activists who had not violated any laws, and whose combined prison sentences summed up to almost 1,500 years.
The only leader that the Castro regime didn't lock up was Oswaldo Payá, so that Cuban intelligence agents could murder him, along with Harold Cepero, on July 22, 2012, in another one of these "energetic measures" that I suppose Cuba "naturally did not wish to take."
Nevertheless, Portuondo and most of the other surviving executioners were never held accountable for consenting to these actions, and can today apply for multiple-entry visas to come and go as they please, to and from their former enemy, the United States of America.
[adrotate group="8″]
Ironically, they've found a loophole for the embargo and can rake in imperialist wages in undeclared US dollars, with the added bonus of doing so by performing at the White House.
Maybe it's better this way, since the 80-year-old murderous woman and the young US president, who lies about his views on Castroism, are perfect for each other. The three murdered black men, Enrique Copello Castillo, Bárbaro Leodán Sevilla García, and Jorge Luis Martínez Isaac, don't elicit the same compassion from Obama as the black men that US police kill off.
Black lives matter to Obama, but it appears that some matter more than others.