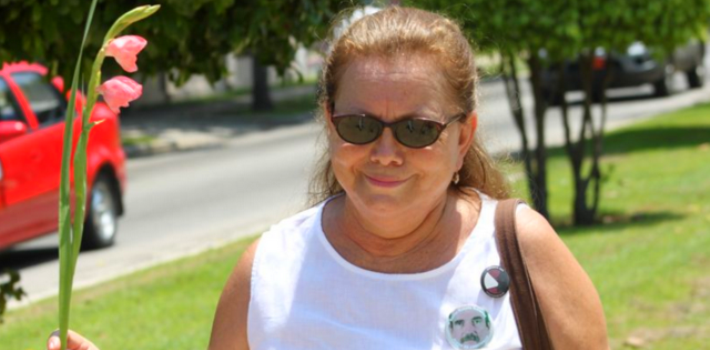 EspañolOctober is a month of terror in Cuba. Socialist psychopaths are known to unleash hell when our fake, tropical Autumn arrives, usually resulting in real political casualties.
As early as October 1959, the Castro brothers disappeared Camilo Cienfuegos, a key leader of the Cuban revolution, along with his close allies. They then propped up Cienfuegos as a fallen hero who died in a plane accident, and yet, of course, they never showed us the plane or any other kind of evidence.
In October 1962, they planned to destroy the United States with Russian nuclear warheads secretly installed on the island. Fidel Castro's desire to achieve more fame than Jesus led him to urge Soviet leader Nikita Khrushchev to launch a "preemptive" attack against the United States from Cuba, and start a thermonuclear war.
When Khrushchev realized the sort of person he was dealing with, he replied: "While we understand your goal, your proposal is a mistake."
Don't let the walking canes fool you; over half a century later, the Castros continue to be the same criminal clan. They came into power killing, and they will leave power killing. Anyone who wants to understand the longevity of Cuban communism must be aware of their radical logic.
In October 2011, the Interior Ministry ordered the execution of literature teacher, and founder of the dissident group Ladies in White, Laura Pollán, who won the European Parliament's 2005 Sakharov Prize for Freedom of Thought. The government never allowed her to leave Cuba to receive the award: they didn't want the victim to get away in a random migration episode.
Less than a year later, another recipient of the Sakharov Prize, the pacifist leader of the Christian Liberation Movement, Oswaldo Payá, was murdered in cold blood.
It hurts to say this, but Laura Pollán died deceived by her own family, who were likely fooled too. Only god knows who among her "friends" and "colleagues" of the so-called Cuban civil society — Cuban intelligence's greatest invention — gave her up.
I was in Havana at the time and witnessed everything, from the beginning to the morbid end. In September 2011, a mob assaulted her in front of her tiny house. A week later, her relatives admitted her to the inhospitable Calixto Garía Medical Center.
She remained conscious for a few hours, until the doctors decided to anesthetize her without her consent. Pollán's family agreed to the procedure, either due to ignorance or complicity. The doctors intubated her to "prevent her from suffering," and she never woke up again.
It was a medical execution, not so different from how the United States kills with a lethal injection.
Pollán allegedly had low blood-sugar levels, respiratory problems, and symptoms similar to dengue fever when she entered the hospital. The doctors quickly took her hostage at the Intensive Care Unit, describing her condition as "very serious" — the perfect excuse to keep her isolated.
What the political police could not achieve, the doctors of death eventually did. All doctors graduated in Cuba are potential executioners for the regime. Before her death, she had survived an assassination attempt in car, during an interview with Pietrantonio Micciareli for the documentary Soy la otra Cuba (I Am the Other Cuba). It was the same technique the Cuban regime used to ambush Payá.
Intelligence agents surrounded her room at the Calixto García hospital day and night. Meanwhile, bloggers and independent journalists echoed the fake medical reports. Silly demands to treat her at the Pedro Kouri Tropical Medicine Institute (scientists hired by the State Council) appeared all over social media. We worried a lot, yes, but we weren't taking care of Laura at all.
And so, we all let Laura Pollán die. In hindsight, we should have at least taken her to an embassy and demanded a humanitarian corridor with the International Red Cross Committee to get her out of Cuba.
The bad news came on the evening of October 14. The doctors claimed she died from cardiac arrest — after a vengeful tracheotomy — but no one mentioned that her body looked like a balloon: inflated, deformed, and with the skin about to crack.
They were typical signs of untreated renal failure, which no one warned about. They killed her with her own fluids, and to remove any evidence, the family held a brief vigil at the La Nacional funeral home and quickly cremated the body before sunrise.
[adrotate group="8″]
The state TV channel reran an episode of Las Razones de Cuba (Cuban Reasons) that portrayed the Ladies in White as mercenaries. Next, the doctor who treated Pollán appeared in the media and revealed private information about her, violating the little professional integrity he had.
In typical demagogic fashion, the man claimed that the Revolution did everything it could to save her life, and boasted about how many millions it would have cost her to have similar treatment in a capitalist country.
Reverend Ricardo Medina, now in exile, secretly took a sample of Pollán's scalp, while his hands blessed her and dressed her for the vigil. He wanted to have the sample tested abroad, so he handed the evidence over to Héctor Maseda, Pollán's husband and a former political prisoner. But this forgetful Mason inexplicably lost the only evidence that the government killed his beloved wife. Laura would have given her life for him, and she did, although in a way that she never intended.
In the book of condolences, I wrote: "Only once did I take a picture of the Ladies in White, in February 2010. I have never forgotten the feeling of liberation that invaded me as photographer and writer."
And I still remember it, Laura. A neighbor, you came from nothing with a heart bigger than the decades of the despotic and decaying revolution. The first week of October marked four years without you. I hope your merciful soul forgives us, wherever you are now, because the Castros knew full well what they were doing: they drained the hopes of a future nation.
Your absence and that of Oswaldo Payá have delayed our long-awaited freedom for at least another 50 years.