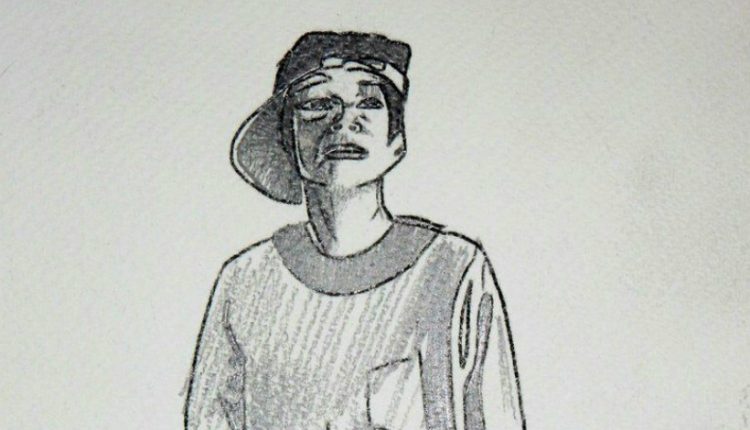 Nicolas Maduro's regime is getting more efficient in its wickedness and cruelty, and yet it's still shocking how insidious the dictatorship can be.
As of March 19th, Venezuela's prison cells hold scores of children and minors, kidnapped for dissenting against the Chavista regime.
Dylan Canache is one of the youngsters secluded in Maduro's political police headquarters, the SEBIN, in Caracas. He is 16 years old. Canache has been held at the 'Helicoide', the shopping mall turned secret police prison, since January.
"I haven't seen my son for two months."

– Dylan Canache's mother
According to a report prepared by the NGO Operación Libertad, Canache was captured January 14th on a subway station in Caracas. He hasn't been charged with any crime, but "unofficially the SEBIN told his mother that her son was prosecuted because he has been making calls for protests from his Facebook page."
"Dylan Canache is at the Helicoide in a cell, dubbed 'Preventive 1', measuring approximately 10 square meters. The cell is in terrible hygienic and health conditions; with greasy, humid and moldy walls; with poor lighting and ventilation conditions which include roaches and rats," reads the NGO's document.
"These are scars difficult to erase in a lifetime"

-university professor, Alberto Conde
The 16-year-old boy is a second-year high school student at Liceo Cardenal Quintero, located in Altamira, Caracas. His was abducted in an operation where the SEBIN used a 16-year-old girl, Betzaida Martínez, as bait.
According to the NGO, Maduro's goons kidnapped the 16-year-old Martínez on January 14, at 1:00 a.m., while she was at a party. Three hours later, the SEBIN forced her to call Dylan Canache and ask him to pick her up at the Antímano Caracas subway station. She didn't give any further details.
"Dylan went to pick her at the Antímano subway station, and minutes later he was surrounded by a group of officers, members of the SEBIN's Intelligence Directorate." He was captured and taken to the hell that is the Helicoide.
One of Canache's cellmates is another minor, 17-year-old Andrés Aserraf. The boys share the cell with 10 inmates, prosecuted for common crimes. All of them sleep on mats on the floor. And, according to Operación Libertad, the minors have been submitted to "physical and psychological abuse by officers and other older inmates; have been forced to exercise as a form of mockery, have received 'cachazos' (blows to the head with officer's weapons) and smacks on the head."
The SEBIN is also holding a 16-year-old girl, Elianys Rodríguez, in solitary confinement at the Helicode.
"It is an aberration. This dictatorship has dared to do what others haven't."

-university professor, Alberto Conde
The SEBIN dares to go where others haven't
There are now seven minors that behind bars, who along with the rest of the political prisoners bring the total to 240 prisoners jailed for holding dissenting opinions in Venezuela, according to the NGO Foro Penal. Apart from Dylan Canache, Andrés Aserraf, Betzaida Martínez and Elyanis Rodríguez, other minors imprisoned include Diego Gomes, Ender González, and Nathael Medina. Medina is secluded at Tachira's Police headquarters.
Dylan Canache's kidnapping has been widely reported on social media. The case has generated outrage among Venezuelan society. By keeping him secluded, the regime is violating scores of Venezuelan laws, starting with, of course, the fact that he hasn't even been charged with a crime.
"I would like to make an appeal to LOPNA (a law issued to protect children and teenagers in Venezuela) to address my situation. I haven't seen my son for two months. I have no idea what his condition is. Please," begs Ana Figuera, Dylan's mother in a video broadcasted by the NGO Foro Penal.
The human rights expert, political scientist and university professor, Alberto Conde, said in an interview that the Dylan Canache processing was illegal from the start.
"It's about political prisoners, all imprisoned for dissenting in some way. Calling for protests is not illegal, but the regime has turned it into that. But also, the fact is that they are minors," Conde said.
These are children. Canache, Aserraf, Martínez, Rodríguez and the others should be at school with their peers. The minor's mothers haven't been able to see them, much less hold them. The regime intends to keep them behind bars. Striping them from the normal life that any child deserves.
"It is an aberration. This dictatorship has dared to do what others haven't. These youngsters are being imprisoned knowing that they didn't commit any crime. Submitting them to isolation, humiliation, inhumane treatment. These are scars difficult to erase in a lifetime," said Conde.
Part of a larger pattern of targeting young protesters
During the 2017 anti-government protests, the regimen proved itself capable of killing children and teenagers. Among the victims of the deadly repression were: