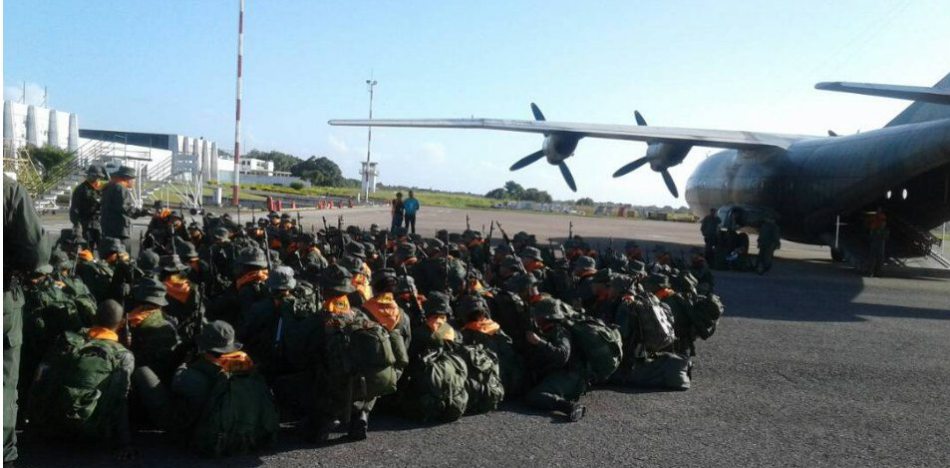 Each day, it becomes increasingly common to hear about a military intervention in Venezuela with the aim of deposing the dictatorial regime of Nicolás Maduro. It is a recurring theme among many circles. For some, it's dreadful. For others, it's hopeful.
However, in the last few hours, the situations seems to be escalating. On the one hand, a preliminary examination of Maduro at the International Criminal Court has been announced.
The international community is increasingly engaging in the fight against authoritarianism in Venezuela; and those aligned with the Castro regime appear restless.
There is concern. It's not a lie. Yes, we are talking about the imminence of a humanitarian intervention in Venezuela. And it's not the usual suspects, who frequently speculate and set off alarms with no grounds. There is actually a serious debate and honest concern.
Read more: Renowned Venezuelan Reporter Fired for Speaking Out against Massacre of Military Rebels
The controversy began when, last year, Donald Trump raised the possibility of a military resolution for the Venezuelan crisis. Then, Rex Tillerson, the Secretary of State of the United States, did the same. Since then, there has been some hustle and bustle in the region.
Tillerson, meanwhile, conducted a Latin America tour at the beginning of February 2018 in order to discuss the crisis in Venezuela and its possible solutions.
So far, the United States, European nations and many other countries have imposed heavy sanctions against the dictatorship of Nicolás Maduro and its leaders. In fact, a few days ago, the possibility of the imposition of sanctions aimed at Venezuela's oil industry was already outlined. Simultaneously, the assumption of an imminent military intervention continues on the rise.
On Monday, February 12, Venezuelan journalist Sebastiana Barrárez wrote on her Twitter account: "Activation of the FANB [Bolivarian National Armed Forces] in the barracks, and not precisely because of the carnival activities. Military intervention".
If anyone knows about military sources, it is precisely Barrárez. She is an expert in security issues, an investigative journalist and usually covers and manages exclusive information about the border and the Venezuelan Armed Forces. For this reason, PanAm Post contacted her to find out what is the predominant narrative within the Army regarding a possible military intervention in Venezuela.
Fear of an imminent (?)military incursion in Venezuela
Sebastiana Barráez assures it: the regime of Nicolás Maduro is restless. Those who reinforce the idea of a humanitarian intervention in Venezuela also cause panic among the high military command of the Bolivarian National Armed Forces and the dictatorship's main officials.
"I am convinced that the fear of military intervention in the country is present, and I am more convinced by the recent behavior of the Armed Forces, and the internal movement in general only shows that they are studying how to react, in case of such a scenario," says the journalist.
Hours ago, there was a military movement on the Colombian side of the border. Apparently, the Colombian government mobilized several armored vehicles (tanks are mentioned) to the area known as La Parada (the stop), just after the Simón Bolívar international bridge, which connects Colombia with Venezuela.
In addition, the renowned investigative journalist Casto Ocando confirms this information. He also adds that there was military movement towards the border on the Brazilian side. He also published information about a Dutch frigate positioned in the Caribbean to impose a military "pincer" on Venezuela.
A los movimientos militares en Colombia y Brazil se une esta fragata holandesa de última generación, que acaba de interceptar 1.6 toneladas de cocaína que iban desde Aruba a Dominicana, cargada desde Venezuela. https://t.co/YmPRyyLiOv

— Casto Ocando-Primer Informe (@cocando) February 12, 2018
Tweet: A modern Dutch frigate just joined Colombian and Brazilian military actions, which have just intercepted 1.6 tons of cocaine that went from Aruba to the Dominican Republic, shipped from Venezuela.
"Tenaza" militar desde fronteras de Colombia, Brasil y Antillas holandesas está enfocado en detener el flujo industrial de cocaína que sale de Venezuela, nervio central de la economía paralela que el Narcorégimen de Maduro quiere usar para sostenerse, más allá del petróleo.

— Casto Ocando-Primer Informe (@cocando) February 12, 2018
Tweet: Military "pincer" from the borders of Colombia, Brazil and the Dutch Antilles is focused on stopping the industrial flow of cocaine that leaves Venezuela, central nerve of the parallel economy that Maduro's Narco Regime wants to use to sustain itself, aside from oil.
To these important displacements it must be added that until this February 10 the head of the Southern Command of the United States, Admiral Kurt Tidd, was in Colombia meeting with the Army and the Colombian Minister of Defense, Luis Villegas, coordinating efforts to favor of "peace".
Tidd lasted two days in the Latin American country and on his visit met with Juan Manuel Santos; the vice president, Oscar Naranjo; and with officials of the Colombian Military Forces.
https://twitter.com/ADMKurtWTidd/status/962031284930293761
MT @southcomwatch: El @ADMKurtWTidd, Comandante del Comando Sur de los #EEUU está en #Colombia para discutir con sus líderes los esfuerzos en la construcción de la #paz y en #seguridad pic.twitter.com/SJSQJSolq0

— US Embassy Bogota (@USEmbassyBogota) February 9, 2018
In the midst of this conjuncture, quite remarkable statements have been said. Four days ago, Roy Chaderton, a diplomat that supports Chavez's legacy, aired, in a statement to the state media VTV, the possibility of a warlike confrontation with Colombia.
He said that some countries in the region are preparing to "invade Venezuela." He insisted that the main enemy of Chavez and his successors is the "Colombian oligarchy".
"We are surrounded. Aside from Colombia, which is the enemy, its oligarchy, there are other countries that are prepared to invade Venezuela and this is well known by our Armed Forces, we have NATO in the vanguard, the Netherlands, which was involved in the blockade. It's a country with a colonialist tradition… these people are joining the empire [US] for a final assault," said Chaderton.
Then a decisive statement was issued: on February 11, Bolivian president Evo morales, reacted to the presence of Admiral Tidd in Colombia on his Twitter account the president of Bolivia.
"We reject the suspicious presence of the head of the US Southern Command in Tumaco-Colombia, any imperialist military threat against peace in the sister nation of Venezuela and our region will be thwarted by the dignity, sovereignty and unity of our democratic peoples," wrote the head of state.
Rechazamos la sospechosa presencia del Jefe del Comando Sur de EEUU, Kurt Tidd, en Tumaco-Colombia. Cualquier amenaza militar imperialista contra la paz en la hermana Venezuela y nuestra región, será desbaratada por la dignidad, soberanía y unidad de nuestros pueblos democráticos

— Evo Morales Ayma (@evoespueblo) February 11, 2018
Finally, on Monday, February 12, the illegitimate prosecutor of Venezuela, Tarek William Saab, assured that a "military invasion" towards his country is being planned from Colombia.
Read more: Venezuela's Exiled Attorney General Accuses Maduro Regime of Human-Rights Violation in Killing of Military Rebels
"[We must expel the forces] from Colombia, and so I denounce it as president of the Citizen Power and Attorney General of the Republic, a military bombing is being planned, nothing less than a reprint of times already ended in the history of humanity. We will not allow that, "said the Chavez sympathizing official.
VIDEO | Tarek William Saab asegura que desde Colombia planifican invasión militar hacia Venezuela: "Eso no lo vamos a permitir. Aquí está la FANB, el pueblo y las instituciones que no lo permitiremos. Que lo entienda Colombia: acá vamos a combatir y a resistir; no tenemos miedo" pic.twitter.com/ByHBOOSH3H

— AlbertoRodNews (@AlbertoRodNews) February 12, 2018
This statement suggests enough. It could be just words. But it's not. Not for Sebastiana Barráez. They are all decisive.
"The armed forces do have information that warns of a military intervention," the journalist told PanAm Post.
Therefore, it is a genuine concern. Real. Yes, the alarms have been activated. There is nervousness and uneasiness. And for this reason, on February 11, the regime mobilized 111 military personnel to the border with Colombia.
https://twitter.com/REDI_Oriente/status/962661118698246144
9. La excusa de la Aviación para la movilización de los Caribes es la Operación Centinela sin más explicación pic.twitter.com/Xt5HKa14mn

— Sebastiana Barráez (@SebastianaB) February 12, 2018
According to Sebastiana Barráez, "the Armed Forces had to respond to the presence of war tanks, military units, military and police troops on the border on the side of Colombia and on the side of Brazil."
That is what it is about when he says that the Bolivarian National Armed Force has been activated "and not precisely because of the carnival holiday activities". The regime of Nicolás Maduro gave the green light to the so-called Operation Sentinel, which is nothing more than a brief response to the mobilizations of troops in Colombia and Brazil.
"Obviously the Government [of Maduro], reacted by mobilizing a group of troops, the Caribs, who are command troops, to the Colombian border," she added. "This means that the Armed Forces, internally, have been activated."
That is all the regime of Nicolás Maduro can offer today. "111 men do not have the strength to respond to a hypothetical intervention, what they did was respond, slightly, to what is happening on the border, but this response does not cover the expectations of what is really being done within the Armed Forces," says Barráez.
According to the expert on military issues, the regime had to execute the weak operation, because otherwise, a passive reaction was going to become an exhibition of weakness.
However, the dictatorship and the military high command know that there is no way to confront an intervention, in the event that it occurs.
"It is not a secret for anyone that our Armed Forces are suffering an internal crisis, which is why the response they offer is weak and simple, they can not confront what they are evaluating, what strategy to implement before an event like this," says Sebastiana Barráez.
Also, the researcher insists that the commanders of the Armed Forces know well that they have famished, undisciplined and inexperienced troops. She also points out that, in the hypothetical case of a foreign military incursion into Venezuela, it is not very likely that some troops, knowing that they will never be able to succeed, will take a risk.
"There is no feeling of attachment to the Armed Forces, of wanting to sacrifice yourself for the homeland, that essential principle is absent, the Armed Forces at this moment are going through a very particular situation, there are serious internal problems, requests for discharge and desertion are growing. Then you add a number of officers involved in crimes, all that crisis must be reflected in the analysis that should be made by the military high command in an extreme situation."
Read more: Why Military Intervention in Venezuela Is Not a Realistic Option
Finally, the journalist Sebastiana Barráez, taking into account the information that has emerged in the last few hours, assures that she does not see a possible military intervention in Venezuela, at least in the short term. It is her particular opinion, but it differs completely with what is being discussed in the Venezuelan military high command and among the main officials of the dictatorship.
Barráez sees a more likely scenario of conflict between neighboring nations. She believes that Colombia will force the worsening of conditions on the border in order to put pressure on the Maduro regime. However, the reality is that the dictatorship with perpetuates Chavez' legacy is uneasy due to the activities carried out over the last few hours in the region. The concern is there, ever-present.
And like the regime, there are many who are already talking about the imminence of a military intervention in Venezuela. Although it still appears like a distant scenario, circumstances seem to reinforce the idea that it can not be postponed.
Most likely, sanctions will be imposed on the oil industry first. It will be a heavy and extensive process. However, certain elements insist on suggesting that the intervention could be an inescapable operation, the last resource.