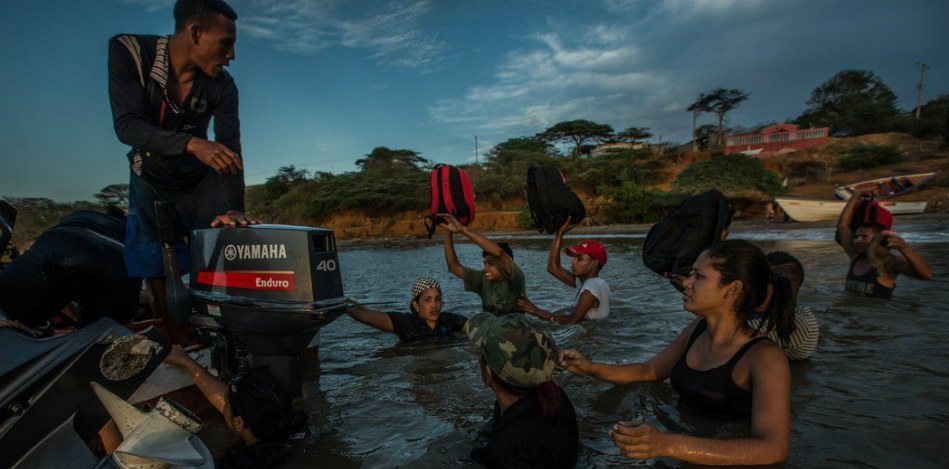 Español On January 10, a group of Venezuelan rafters headed for Curaçao were met with tragedy. Many people on the raft died, and then the survivors were intercepted by authorities. They are now in police custody.
News of the dramatic incident aroused the indignation of Venezuelans throughout the country and abroad, as the incident showed how the severity of President Nicolás Maduro's crisis is pushing people to the extreme when looking for refuge.
Despite the publicity the incident received, escaping the country by raft isn't actually a new phenomenon. Venezuelans — like their Cuban counterparts — have been taking to the water to escape economic hardship and government oppression for some time now.
"It's been happening for over a year Venezuelan," journalist Daniel Blanco tweeted. "Immigrants have been playing cat and mouse with the Dutch coast guard officials on the coasts of Curaçao."
In 2015, facing conditions that are nowhere near as bad as they are today, 2o Cubans left Venezuela on rafts headed for Panama. They were unable to reach their destination and were eventually rescued by the Colombian National Navy.
In March 2016, authorities found the body of a Venezuelan rafter who was apparently headed for Aruba. At the time, his death was emblematic of a changing attitude and growing fear that Venezuela, despite having been one of the most prosperous countries in the region, was starting to collapse at an alarming rate.
In August, authorities arrested 20 Venezuelans attempting to flee to Curaçao by raft.
There may be more information and more cases that have not been reported. According to the journalist Alberto Rodríguez, a total of 60 Venezuelan rafters were intercepted in 2016. Rodríguez said there were an alarming 300 or more people that attempted to escape by sea.
ÚLTIMA HORA | Guardia Costera de Curazao confirma hallazgo -por ahora- de cuatro cadáveres de balseros venezolanos. Mantienen operativos de búsqueda y rescate.
Además, agregan que se ha disparado el éxodo de balseros venezolanos.
En 2016, interceptaron a 60.
En 2017, más de 300

— AlbertoRodNews (@AlbertoRodNews) January 11, 2018
BREAKING: Curaçao coast guard confirms the bodies of four-so far- Venezuelan rafters. There are search and rescue teams at work, due to a recent epidemic of Venezuelan rafters. In 2016 they intercepted 60, in 2017, over 300.
In Curaçao alone, there are reportedly up to 12,000 Venezuelans facing an irregular immigration situation due to their having arrived via raft. According to Regnal Lugin, an official of the Polisial Kuerpo, an immigrant trafficking business on the island, has sprouted up to take advantage of the crisis in Venezuela.
"Very soon we are going to see the cruelest face of irregular migration: the trafficking of people, carried out by fishermen turned into coyotes," Blanco said.