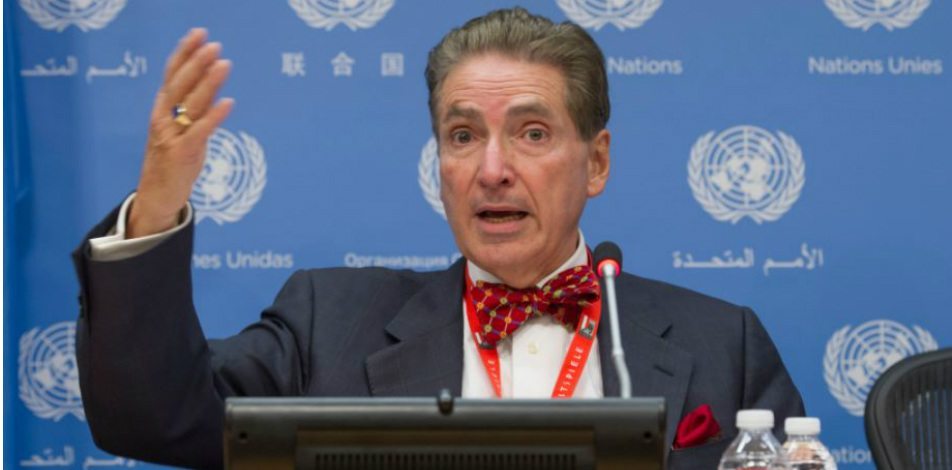 Español United Nations Special Rapporteur Alfred de Zayas finished a peace-keeping visit to Venezuela earlier this month, and now has a main request for Nicolás Maduro's regime: Release 22 prisoners.
De Zayas, the only UN rapporteur to be allowed into Venezuela, did not offer further details about the request. He's been criticized in the past for showing an alleged sympathy to the dictatorship, even chatting politely with its members during the visit. That might explain why he won't say who the 22 prisoners are or what they were arrested for.
He only said that it's "unnecessary" and "counterproductive" to create confrontations with the Maduro regime when the UN's objective is to convince Maduro to cooperate with the international community. "I want cooperation (from the authorities) and if I opt for confrontation, I block that possibility," he said.
Though direct accusations are ineffective in the mind of De Zayas, he did say that there are "institutional problems" in Venezuela that need addressing. He also said it was a "great mistake" for Maduro to ban several major opposition political parties from running in next year's presidential election.
As a Special Rapporteur, De Zayas is responsible for writing a report on his visit to Venezuela and presenting it to the UN. It will reportedly be made public in September 2018.
In an interview with TeleSUR, De Zayas spoke about the tendency to refer to the situation in Venezuela as a humanitarian crisis. He said the situation is being exaggerated, which is dangerous because it can strengthen arguments for possible intervention.
"That term of 'humanitarian crisis' easily becomes the pretext for an intervention, with the purpose of overthrowing the current government. Whether they like it or not, it is the elected government," de Zayas said on December 11.
In De Zayas' view, the situation in Venezuela is not "of acute urgency" — at least as he perceived it.
"I do not like exaggerations. There are humanitarian crises in many countries in Africa, in the Middle East. In Venezuela there is a shortage, but we must find out the causes of these problems. To what extent is it the government's fault? To what extent is it the result of an economic war that comes from abroad? From sanctions? From the falling price of oil? From inflation? From contraband?"