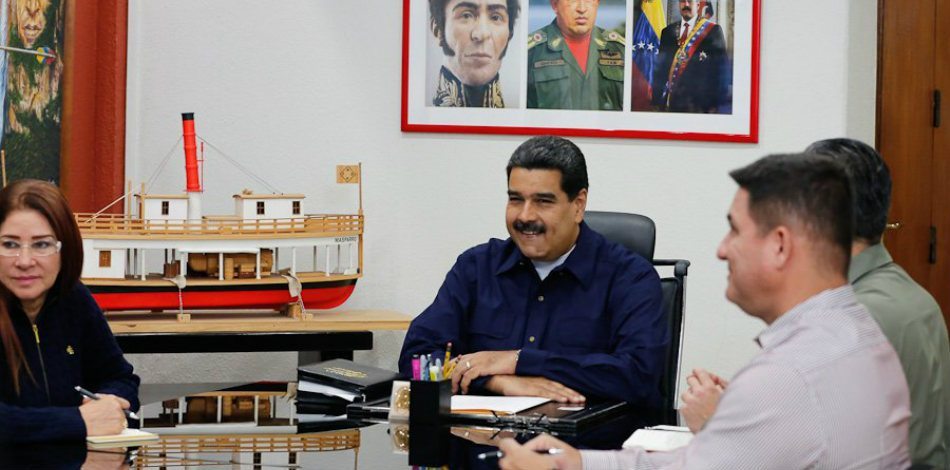 EspañolThe Venezuelan military has taken control of PDVSA, the state-run oil company largely responsible for holding up the last of the country's economy. This Sunday, November 26, President Nicolás Maduro appointed General of the Bolivarian National Guard, Manuel Quevedo, President of the company.
Quevedo will also assume the position of Minister of Petroleum and Energy, giving the general power over Venezuela's main source of income while deepening the military's control over the country. Before Quevedo took over, PDVSA was chaired by geophysical engineer Eulogio del Pino. Nelson Martínez served as Minister of Petroleum.
https://twitter.com/PresidencialVen/status/934838571885826049
I have appointed M/G Manuel Quevedo as president of PDVSA and minister of petroleum. He is a young revolutionary. I congratulate him publicly for his work at the head of the GMVV, and I want him leading the petroleum project. It's time for a new revolution in PDVSA. 
The main objective for the new President of PDVSA is reportedly to "raise production" of oil barrels, which currently stand at 1.9 million per day. That's a substantial decrease compared to last year, when production was 2.27 million barrels per day. In 2008, it was 3.2 million barrels per day.
Despite the decrease in production, revenue from oil exports still make up about 96 percent of Venezuela's foreign exchange revenue. These figures explain one part of a larger ongoing economic crisis. According to the International Monetary Fund, inflation is projected to hit 2,300 percent in 2018.  Meanwhile, the Venezuelan minimum wage is only about US $5.
Los militares alcanzaron la última frontera del Poder en Venezuela con la designación del M/G (GNB) Manuel Quevedo al frente de PDVSA…

— Rocío San Miguel (@rociosanmiguel) November 26, 2017
According to one pollster, 74 percent of Venezuelans lost more than 17 pounds last year. However, Maduro seems keen on strenghtening the military rather addressing the problem by appointing someone right for the job. He named Major General Luis Alberto Ramírez to Minister of Food.
Ramírez is also President of the company Venezolana de Alimentos C.A. (Venalcasa) and the Single Corporation of Productive and Nutrition Services (Cuspa) despite accusations that he's created a monopoly on basic goods and left an entire nation suffering from hunger.
The Ministry of Transport, meanwhile, moved from one military man to another — with General Juan de Jesus Garcia Toussaint stepping aside for Major General Carlos Osorio Zambrano, former Minister of Food. The former Governor of Táchira and ex-military, José Vielma Mora, was appointed to the Minister of Foreign Trade.
A closer look at Maduro's regime reveals that it is packed with military officials:
Colonel Jorge Márquez, Minister of the Office of the President
Néstor Reverol, Minister of the Interior
Vladimir Padrino López, Minister for Defense
Retired commander Wilmar Castro, Ministry for Agriculture, Productivity and Lands
Admiral Orlando Maneiro, Minister for Fisheries
General Idelmaro Villaroel, Ministry of Habitat and Housing
Major General Luis Motta Rodríguez, Minister for Electric Power
Admiral César Alberto Salazar, Minister of Public Works
Now, with Quevedo's appointment to PDVSA, complaints about human rights violations are circulating again.
Venezuelan opposition leader Alejandro Conejero tweeted: "Manuel Quevedo, General of the National Guard, was in charge of the detention of 104 students, including myself, on May 14, 2014."
https://twitter.com/Miguel_Barone/status/469542302399336448