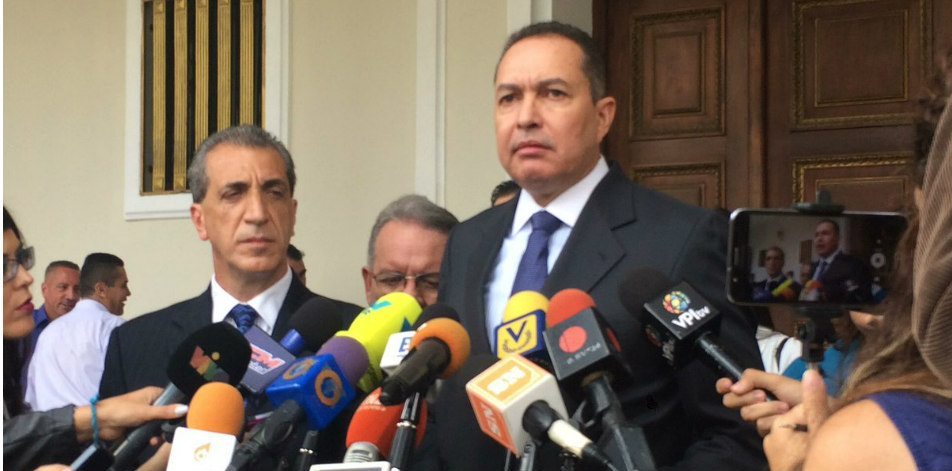 Español Members of Venezuela's National Assembly announced this week that they will be splitting from the country's political opposition, the National Unity Roundtable, or MUD by its Spanish acronym, and forming their own faction called "July 16."
"The National Assembly, as a democratic, plural entity, must undoubtedly be democratic," Deputy of the Alianza Bravo Pueblo party, Richard Blanco, said during an announcement of the new political faction.
The name of the new group refers to the plebiscite held by the opposition July 16, when more than seven million Venezuelans voted not to recognize the National Constituent Assembly Maduro created to replace the National Assembly, as well as for the replacement of the current members of the National Electoral Council.
"(Our goal is to) bring about the end of the current regime through democratic means and execute coherent actions," he said.
Blanco said July 16 intends to fight for new members of the National Electoral Council, whose current leaders were not elected democratically and have overstayed their terms. The coalition also intends to fight for clean, transparent elections and the reincorporation of all deputies that the dictatorship has dismissed.
#Fracción16DeJulioAN es por la lucha de todos los venezolanos que sin miedo salieron a las calles de Venezuela a luchar por la democracia pic.twitter.com/PzPZmOSVP8

— Dip.Richard Blanco (@RichardBlancoOf) November 14, 2017
July 16 is composed mainly of members of the Alianza Bravo Pueblo party — of which the political prisoner Antonio Ledezma is a leader — and the Vente Venezuela party, which is led by María Corina Machado. Both of them have made their differences with MUD clear, expressing disapproval of recent dialogue with the dictatorship in the Dominican Republic.
According to July 16, another round of negotiations with the dictatorship shouldn't take place until the opposition's demands are met. Any concession by the opposition is a loss, they argued, when the dictatorship is unwilling to budge on its own policies. In the past, the regime has used dialogues to buy time and relieve some political pressure while never following through with promises.
Blanco's announcement was met with mixed reactions this Tuesday. While some condemned the decision and said MUD has broken, others supported the decision and argued that it's time to build a new coalition based on stronger, clearer principles and objectives.
https://twitter.com/emiliailq/status/930471801800613888
Haciendo uso de la palabra "Unidad" 13 diputados de ABP, Vente y Convergencia anuncian una nueva fracción en la AN llamada "16 de julio", haciendo referencia al plesbicito que convocó la MUD. Muestra de que el uso del lenguaje da para todo y para todos, no solo para el gobierno.

— Nela Rodriguez (@NelaRodriguezG) November 14, 2017
Mi apoyo y solidaridad a Richard Blanco y los diputados que están rescatando la dignidad de la AN.

— Enrique Aristeguieta (@EAristeguieta) November 14, 2017