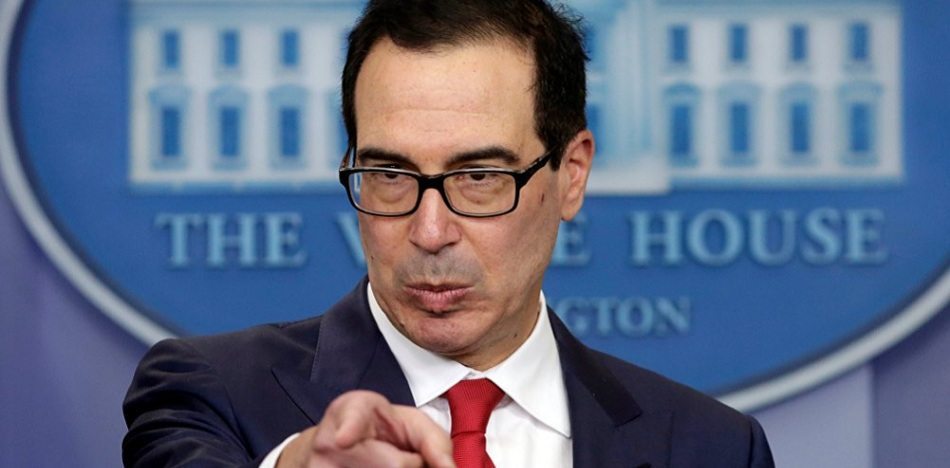 EspañolThe United States announced a new round of economic sanctions this week targeting the dictatorship in Venezuela. Ten senior officials of President Nicolás Maduro's regime, several of them ministers and members of the country's National Electoral Council, appeared on the list.
The Treasury Department linked the officials to electoral fraud, press censorship and corruption within the country's food distribution programs, which are intended to battle national shortages.
"We will maintain our vigorous efforts to sanction government officials who are complicit with Maduro's attempts to undermine democracy, violate human rights, inhibit freedom of expression and peaceful assembly, or participate in public corruption," Secretary of the Treasury Steven Mnuchin said.
#AHORA Departamento del Tesoro impone 11 nuevas sanciones a funcionarios del gobierno venezolano #9Nov / US Department of the Treasury impose 11 new sanctions on Venezuelan government officials #BreakingNews pic.twitter.com/WIHC0BYDMn

— Álvaro Pulido (@aepulido) November 9, 2017
The statement released by the Treasury listed new sanctions against the Director of the National Electoral Council Sandra Oblitas and Socorro Hernández, as well as its Deputy Director, Carlos Enrique Quintero Cuevas. Isaías Rodríguez, the former Duptry Vice President of the Council, also appeared on the list.
"As the Venezuelan government continues to ignore the will of its people, our message remains clear: the United States will not stand by and watch as the Maduro regime continues to destroy democratic order and prosperity in Venezuela," Mnuchin said.
Elvis Amoroso was also sanctioned. He currently serves as the Vice President of the National Constituent Assembly, a legislative body that the regime unconstitutionally imposed with the intention of overtaking the opposition-controlled National Assembly earlier this year. It was this move by Maduro that brought about previous sanctions from the US, as well as criticism from the international community.
"These measures are being taken after the elections of state Governors in Venezuela on October 15, characterized by numerous irregularities that strongly suggest the ruling party unexpectedly won the majority of gubernatorial races due to fraud,"the United States' statement said.
The country's Minister of Culture Ernesto Villegas, former Minister of Communication Jorge Eliecer, Minister of the Office of the Presidency Marquez Monsalve as well as Manuel Ángel Fernández Meléndez, the President of the largest telecommunications company in Venezuela, Cantv, were also sanctioned.
Minister of Nutrition Carlos Alberto Osorio Zambrano and Head of the CLAP food distribution program, Freddy Bernal, have also been sanctioned.
The sanctions freeze all assets the officials may have on United States soil, and prohibits them from carrying out financial transactions with any person or institution associated with the US.
Mnuchin stressed that "despite requests for an independent audit of the electoral results, the Venezuelan government proceeded to swear in the victorious candidates before the illegitimate Constituent Assembly, further emphasizing the authoritarian nature of the Maduro regime."
On October 13, Trump said he would not lift the sanctions until "political and religious freedom" is restored in Venezuela.
Sources: Efecto Cocuyo, Miami Diario