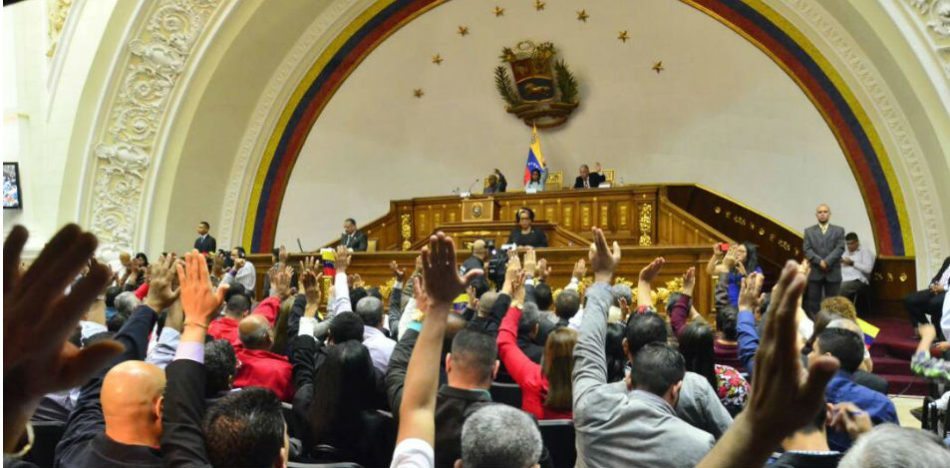 EspañolOn Wednesday, November 8, Venezuela's National Constituent Assembly unanimously approved the Constitutional Anti-Hate Law for Peaceful Coexistence and Tolerance. Those found guilty of promoting "hate crimes" will face up to 20 years in prison.
"Anyone who publicly incites hatred, discrimination or violence against a person or group of persons due to their real or perceived membership in a certain social, ethnic, religious or political group shall be punished with imprisonment of 10 to 20 years," the new legislation said.
It was introduced during a wave of protests that took place in Venezuela between April and July, though it had been suggested by Nicolás Maduro's regime on multiple previous occasions. Maduro said this year's demonstrations were driven by social, racial and political "hate" messages. Now, the dictatorship intends to prevent another episode from occurring in the coming months.
https://twitter.com/DrodriguezVen/status/928337900307140610
Those found to be "promoting hate" won't be the only ones in danger of punishment. It will also be a punishable offense to not act against inciters. The text approved by the illegal Constituent Assembly also provides prison sentences of between eight and 10 years for police or Armed Forces officials who delay the execution of "justice" against those responsible for "hatred" in the country.
The law's loose wording combined with the regime's authoritarian nature has the political opposition worried it will be used to oppress anyone the government deems an enemy. All private citizens, institutions and entities are obliged to cooperate with the Anti-Hate Law.
A Commission for the Promotion and Guarantee of Peaceful Coexistence" has already been created, comprising several ministers, and other regime officials. President of the illegitimate Supreme Court of Justice, Maikel Moreno, as well as the illegitimate General Prosecutor of the Republic, Tarek William Saab, are responsible for promoting and guaranteeing peace through the application of the Anti-Hate Law.
Censorship 
"Violence, hate, racism are transmitted (through social media)," Maduro said. "… The world of social media must be a world that adapts to the laws and values of countries and societies … Venezuela has to prepare to govern itself in favor of interests, family, the future, all social networks."
The dictatorship is also applying the law to the media, including mediums that are difficult to control. The law also states: "The radio or television service providers who broadcasts messages that constitute propaganda in favor of war or who advocate national, racial, religious, political or other hatred will be sanctioned with the revoking of their media credentials."
The text also sets out a structure for applying fines "for legal entities responsible for social networks and electronic media that do not withdraw 'hate' messages within a period of six hours, as well as sanctions of up to four percent of tax revenues for media owners who refuse to publish content promoting tolerance," according to EFE.
Nos obligan a odiar y luego nos condenan por ello.

— Milagros Socorro (@MilagrosSocorro) November 8, 2017
Tweet: They make us hate them, and then they punish us for it. 
"The approval of the Anti-Hate Law gives Chavismo a means to impede media from covering or referring to protests," the journalist Eugenio Martínez tweeted. "More censorship and self-censorship in an attempt to hide the daily drama for Venezuelans."
Author and journalist Ibéyise Pacheco, said, "The regime corners what little freedom of speech we still have. Between Jorge Rodríguez and the National Constituent Assembly, with their anti-hate law, are turning the media into propaganda machines."
Tweet: They are pushing the Anti-Hate law because they hate us. 
Promulgan la Ley del Odio porque nos odian.

— Elías Pino Iturrieta (@eliaspino) November 8, 2017