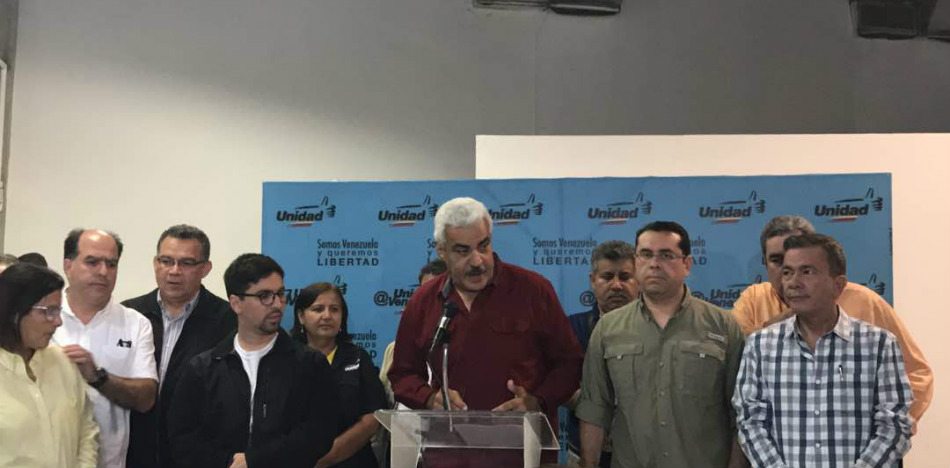 EspañolVenezuela's opposition claims that the regional elections that took place this past Sunday, October 15 were a "mega-fraud," and accused President Nicolás Maduro, his regime and the National Electoral Council of breaking the law just one hour before results were officially announced.
The opposition candidate for Governor in the state of Miranda, Carlos Ocariz, claimed that there was fraud in his election, though he did not mention any details beyond the absence of voting records, which are needed to prove a case of outright cheating.
.@CarlosOcariz: "Yo sé que en la política se gana y se pierde, hoy mi responsabilidad es decir que lo que ocurrió ayer vulneró la voluntad del pueblo mirandino" #16Oct

— Unidad Venezuela (@unidadvenezuela) October 16, 2017
"The problem is not just the voting records, it is the whole system and the way it was set up"
.@CarlosOcariz: "El problema no son solo las actas sino todo el sistema como está concebido" #16Oct

— Unidad Venezuela (@unidadvenezuela) October 16, 2017
I know that there in politics there is a winner and a loser. I have a responsibility today to say that what happened yesterday jeopardized the will of the people of Mirandino
Fraud seems to be evident in this round of elections, but the opposition has struggled to prove it with hard evidence. A press conference took place this past Monday to denounce the electoral process while select candidates, including Henri Falcón from the state of Lara, admitted defeat.
 "The rainy season first; then come blessings," Falcón tweeted. "God's timing is perfect. When something bad happens it is because something better is on the horizon."
— Henri Falcón (@HenriFalconLara) October 16, 2017
"No one doubts the fact that Venezuelan elections have been neither fair nor transparent," Opposition leader Angel Oropeza, said at the press conference. "So far, we have noticed many irregularities in the process, including one million, eighty thousand voters who were prevented from exercising their vote because of damaged facilities."
He immediately began to mention a series of irregularities that tarnished the process: nullified votes, last-minute voting station changes, blackmail, extortion, violence and manipulation, among other things. Then, without mentioning voting records, he presented a proposed "road map" to change.
"First: we call on the people, the world, to fight for a new electoral system and the urgent call for free and transparent elections," he said. "Second, we announce technical emergency teams …. (and) a comprehensive report on the electoral process and particular irregularities, in light of the cheating we already know about," Oropeza said.
"Third, we called for an emergency meeting of our 23 MUD candidates and their technical teams to continue taking political action," and, finally, Oropeza demanded that "a total, qualitative and quantitative audit be imposed by the commission."
The leader of MUD said the Venezuelan opposition decided to go to regional elections knowing they would have one of two outcomes: a victory over the regime of Nicolás Maduro or a fraud. "Unfortunately the regime opted for the second option, sought the path of fraud implemented maliciously in order to ignore the will of the people," he said.
"We request the support of the people, parliaments and governments of the world to achieve these goals, as well as the highest condemnation, pressure and sanctions," Oropeza said. He also called on all sectors and leaderships of democratic society that are within or outside the MUD to discuss a" unifying strategy" and to mobilize in the streets once again.
#URGENTE Rueda de prensa Unidad Democrática, elecciones regionales #16Oct https://t.co/BE4neiJAr8

— Unidad Venezuela (@unidadvenezuela) October 16, 2017
Some doubts remained, however, many of which were quelled by Liliana Hernandez, who is in charge of elections for the Democratic Unity Roundtable. But she also exposed a worrisome reality: the records that they do have will only help them if the electoral process proceeded normally, which was unfortunately not the case.
Much of the international community agrees that there has been fraud, but apparently the opposition was not prepared for it. The premise is crumbling for the Democratic Unity Roundtable, especially now that some candidates and leaders of MUD have begun to recognize the results of the illegitimate National Electoral Council.
"According to Democratic Action, there is no evidence of fraud in the regional elections," journalist Daniel Blanco's tweeted. "Antonio Ecarri said that abstaining from voting has favored Chavismo."
AD ya abrió paso y asegura que no hubo fraude. No es de extrañar, 4 de los 6 candidatos ganadores son de ellos. Un asunto de intereses.

— Isnardo Bravo (@isnardobravo) October 16, 2017
AD has confirmed that there was no fraud. No wonder, 4 of the 6 winners where from their party. Very interesting. 
Out of all winning candidates, the majority are from Democratic Action — the party run by former National Assembly President Henry Ramos Allup. Now, this same political force is undermining the case for fraud.
"Henri Falcón admits defeat. AD, the party with the most winning candidates, is not talking about fraud, but MUD is, and they call an urgent meeting with 23 candidates," journalist Víctor Amaya said.
AD solo se enfoca en las actas: "Hasta el momento, con los datos que contamos, sería irresponsable cantar fraude", dijo el VP del partido

— Víctor Amaya (@victoramaya) October 16, 2017