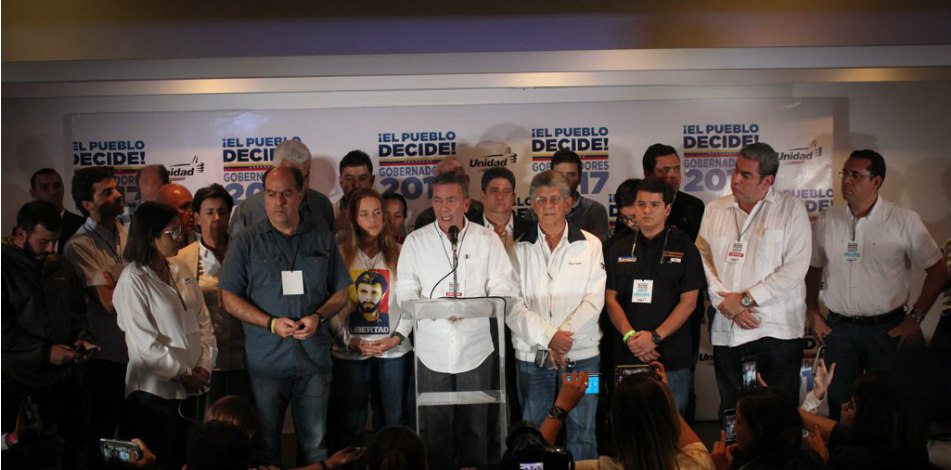 EspañolIt's already October 16. This morning, the Maduro regime reared it's ugly head once again and showed what they are capable of.
For years, Venezuelans have clung to a farce, an illusion and to a continuous denial of reality in order to enjoy a bit of happiness, no matter how fleeting. But it's time to face reality. The dictatorship, fortunately, has given us a new opportunity.
I didn't agree with the opposition's participation in regional elections. Though some received my decision with hostility, I repeat: I did not vote. There are many reasons why, most of them I explain here. Others only become clear over time, as the process shows itself to be increasingly unacceptable and the campaign surrounding even it more disgusting. But people generally understand where I'm coming from.
I don't regret my choice. It was simply the expression of ideas that are consistent with reality: this is a totalitarian regime, full of organized crime and drug trafficking. In the end, the opposition coalition decided to participate and the inevitable happened. Though we all expected it, most people preferred to ignore it. Once again they did what they wanted: Six governors were given to the opposition, and the dictatorship took the rest.
This fifth of October, Maduro triumphed — not electorally, but politically. It was a thunderous triumph. Meanwhile, the opposition must move forward in the obscure and cumbersome process of verifying fraud. This is unfortunate, because most people knew that the electoral process was going to be illegitimate. Now, the opposition is left to find another route to fighting the dictatorship, and must stick to it.
We all know what happened. Perhaps the entire international community will understand it too; but faced with that scenario there is not much that can be done. The world will be slow to react. Don't expect the condemnation from neighboring countries despite their solidarity in opposing the Constituent Assembly. After all, in spite of the warnings, people submitted to a humiliating process under unacceptable conditions.
Today we must confront reality and that, in a strange way, is exciting. Those who underestimated the nature of the regime must finally agree about what to do now.
This was a wake up call — a splash of cold water — tragic and painful. Despite the circus of campaigns that took place over several weeks, there is no excuse for complacency about Venezuela's situation: Citizens flee hopelessly from their land; children, young people and grandparents die in hospitals due to a lack of supplies, and the middle class continues to disappear while the totalitarian system grows stronger with manufactured political victories.
There's another issue that should be the most important: freedom. Unfortunately, we will not be able to recover it by voting. It's stupid and irresponsible — even criminal – to keep insisting on it. The electoral option was not successful this October 15. Months ago, when the regime destroyed any chance at a presidential recall, that stopped being the way things get done in Venezuela. They confirmed that reality in March, when the regime dissolved the National Assembly.
We must recognize the reality of Venezuela's situation and outline a true road map to change — one that fits the situation and responds to the millions of citizens who have lost everything in the pursuit of freedom.
Was it worth so much discord? I don't think so. But it's time to organize the will of the people around principles and objectives. This is a moment of responsibility, a moment to impose an agenda and to set aside elections that the dictatorship uses to create an illusion of change.