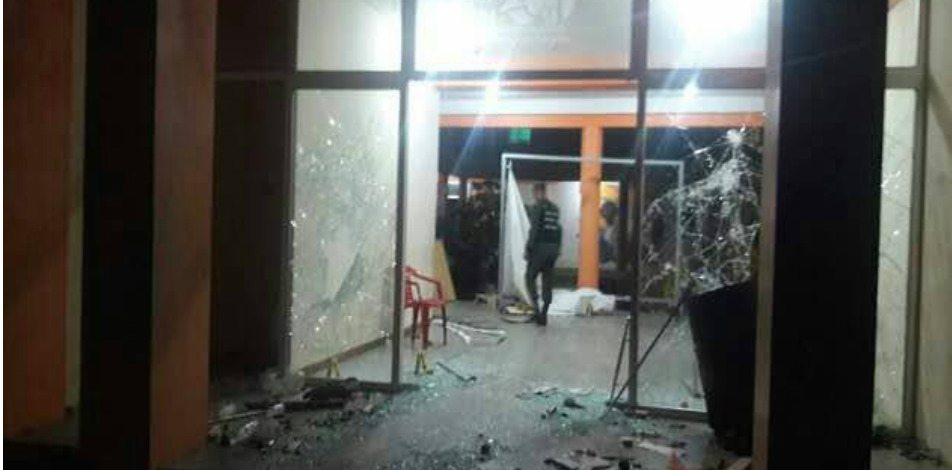 EspañolProtests erupted on Monday, October 10 in the state of Falcon, Venezuela as citizens there became fed up with a lack of water and electricity, ultimately burning down the local town hall in the municipality of Los Taques.
Protesters reportedly forced their way into the building with the intention of finding documents related to the shortages, as well as to steal equipment and other resources. Soon, the incident escalated and the demonstrators set the building on fire, throwing stones and other objects at it as the flames grew.
The anger of residents in the area came in response to the local government's lack of action in providing them water and electricity.
"The situation here has not been going on for days, but for months," one resident, who preferred to remain anonymous, said. "There is no water or electricity. It's unsustainable."
Faced with the assault on the government building, Mayor Jose Luis Iglesias — who is a supporter of Nicolás Maduro's dictatorship — reinforced a "resounding rejection to looting and vandalism against municipal public facilities and public goods."
"We remain firm in the revolutionary struggle," Rodríguez added.
#10Oct 10:30am URGENTE #PtoFijo
1. No luz
2. Bancos y C. Comerciales cerrados
3. Alcaldía los Taques y casa Cultura quemadas @ReporteYa pic.twitter.com/Xz6MtQ0ZDQ

— Presidente ReyLex (@Reylex) October 10, 2017
Tweet: 
No electricity 
Malls Shut Down
 Los Taques town hall and cultural center burned down 
Paraguaná: Destrozan y queman Alcaldía de Los Taques por falta de agua y luz pic.twitter.com/trFEy5NXcX

— NoticiasSimonBolivar (@NoticiasSB1) October 10, 2017
Tweet: Paraguaná: The Town hall in los Taques was destroyed and burned down in protest of water and electricity shortage
Destrozos en la Alcaldía de Los Taques, Paraguaná por poblada cansada de soportar varias semanas sin luz y sin agua. pic.twitter.com/t0RJGmLSRO

— Manuel ESE (@ManuelSuarezQ) October 10, 2017
Tweet: Destruction of the Los Taques, Paraguaná town hall by citizens tired of not having water or electricity for several weeks 
The events in Los Taques are not an isolated incident. Even in the capital of Caracas, the shortage crisis has caused frequent looting and violence. Though political protests appear to have been suspended, unrest continues as the crisis worsens.