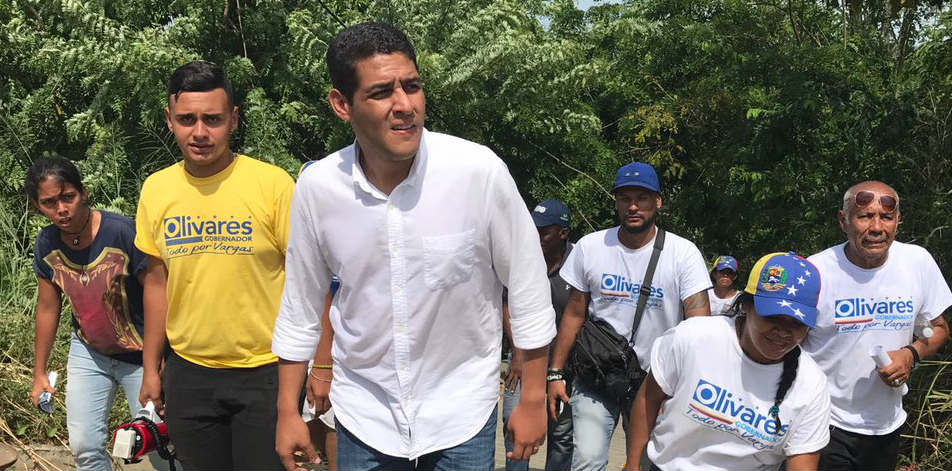 EspañolOn Monday, September 25, Nicolas Maduro's regime arrested the brother of José Manuel Olivares, the opposition candidate running for Governor of the state of Vargas.
Olivares, his brother and supporters were reportedly volunteering with Alimenta Solidaridad, a grassroots charity in Via Eterna, when the Bolivarian National Intelligence Service (Sebin) and Military Counterintelligence interfered on the event, and then made the arrest.
Heavily armed commanders of Sebin reportedly arrived asking about Olivares and his brother Juan Carlos Sosa Marquina. They handcuffed him and put a hood over his head, according to Olivares, before loading him in a government vehicle and taking him to the headquarters of the Bolivarian National Police.
"It was an arbitrary arrest, but still something that we are familiar with, a kidnapping perpetrated by Nicolás Maduro and his candidate. We do not know what he is being accused of," the politician, who is a member of the opposition party First Justice, said.
Olivares said it's a sign that the regime is nervous about upcoming elections, and knows the people are going to vote against them.
The former congressman became an outspoken leader during protests earlier this year. Now, he's running for Governor of the state of Vargas, where Jorge Luis García Carneiro currently governs with Maduro's United Socialist Party.
#25Sep @joseolivaresm: "Sebin se llevó a mi Hmno. Juan Carlos Sosa Marquina, preguntaban por carro que manejo, en PNB lo tenían encapuchado" pic.twitter.com/J4ynEA4lgl

— TVV Noticias (@TVVnoticias) September 25, 2017
Sebin took my brother, Juan Carlos Sosa Marquina. They asked about his car, he appeared on PNB with a hood over his head.