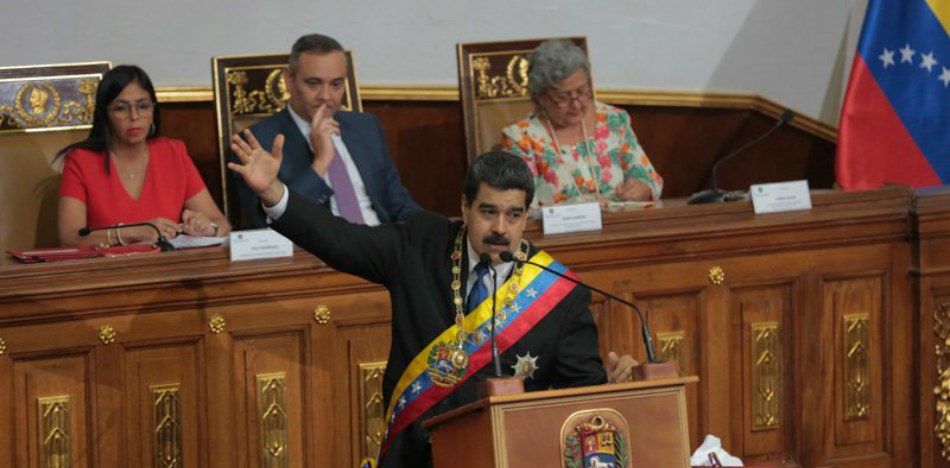 EspañolVenezuelan President Nicolás Maduro went before the illegitimate National Constituent Assembly this week to announce a new economic plan that he believes will stabilize the country's rampant inflation and shortage crisis. Measures included in the plan will enforce new price caps will increasing the minimum wage.
"I ask that tomorrow, 40 percent of the salary be transferred to public workers and pensioners" he said. "No later than Monday."
Nuevo salario mínimo decretado por Maduro:
Salario base: 136.544 Bs.
Cestaticket: 189.000 Bs.
Salario mínimo integral: 325.544 Bs.

— AlbertoRodNews (@AlbertoRodNews) September 8, 2017
New minimum wage decreed by Maduro:
Base Salary : 136.544 Bs.
Cestaticket: 189.000 Bs.
Combined mimimum wage: 325.544 Bs.
https://twitter.com/PresidencialVen/status/905983974043942912
President Maduro presents to congress his plan to creat AgroSur, a syndicate designed to bolster economic growth in rural areas. 
https://twitter.com/PresidencialVen/status/905979005890912257
@Nicolas Maduro announces that he will push the electronic payment incentive program designed to lower the IVA by 5 points
According to Maduro, Venezuela has suffered a financial crisis due to several year of alleged "economic war" being waged from inside and out of the country. He claimed that the new onslaught of sanctions by United States President Donald Trump and National Assembly President Julio Borges has destroyed the economy.
Faced with destabilization, Maduro will continue to push the price-control policy that has doomed Venezuela for years.
"This new pricing system agreed upon by all productive and distributive sectors, and with consumers, will be supervised on the streets," he said over a TV and radio broadcast.
The new policies go into effect starting this Friday, September 8 and constitute a new plan of price ceilings for the public sale of fifty goods and services deemed essential for Venezuelans.
Maduro said the laws were vital to fighting inflation, the economic war and to punishing the "bachaqueros" — people who are known for selling goods at marked-up prices on the black market.
Sourcee: El Universal