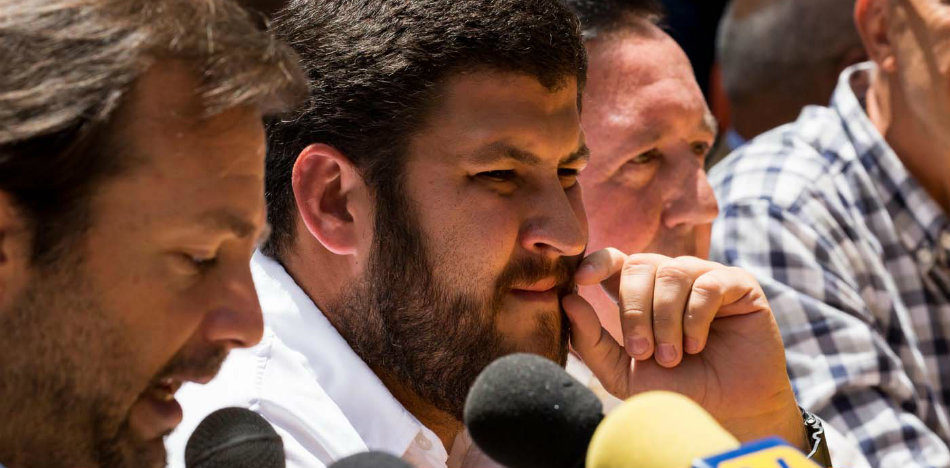 EspañolOpposition Mayor David Smolanksy has been in hiding since Venezuela President Nicolás Maduro used the Supreme Court to order his imprisonment. On August 20, he published a letter arguing that regional elections divert the focus away from Maduro's exit.
"What guarantees can there be for free, secret, direct, universal and transparent elections?" Smolansky wrote in his letter about the upcoming October elections. "No, they were called to make us lose focus on Maduro's immediate exit."
Smolanksy stressed that he believed in democracy, but that the National Electoral Council — which is in charge of all elections in the country — is a force of support for the Maduro regime, which is preventing transparent and fair electoral processes from taking place.
Smolansky said he believes time should not be spent on the debate concerning regional elections, in part because the situation is much worse than it was in 2005, when the opposition decided to abstain from an election campaign that ultimately led to a win for the Chavez regime.
"In case the National Constituent Assembly was not already enough of an obstacle, yesterday they absorbed the powers of the National Assembly to finish consummating their coup d'état," he wrote.
The opposition leader asked the opposition "to resume the street fight that began on April 1 with the following objectives: to retain authority for the National Assembly, humanitarian channels, freedom for political prisoners, de-legitimize the Constituent Assembly, and general elections with an impartial CNE, as expressed by almost eight million Venezuelans on July 16."
Ignoring these priorities and focusing on the regional elections will only "give oxygen to the dictatorship," Smolansky wrote.
"Regionales en dictadura". De mi puño y letra, otro escrito que les comparto desde la clandestinidad. Sigo luchando. ¡Fuerza y fe! + FOTOS pic.twitter.com/wIVzDLPijA

— David Smolansky (@dsmolansky) August 20, 2017
"Regional elections under a dictatorship". From my own grip and handwriting, another letter that I am sharing with you from hiding. I am still in the fight. Strength and faith! PHOTOS
His position aligns with the traditional beliefs of the Democratic Unity Roundtable, the coalition of opposition parties that have this time decided to participate in regional elections. That decision has been controversial. Significant leaders such as Antonio Ledezma and María Corina Machado have expressed their disapproval. For this reason, Machado announced he will be leaving MUD.
Smolansky's comments also echo those of Mayor of the Chacao municipality and member of the First Justice party, Ramón Muchacho.
Muchacho found himself facing persecution from the Supreme Court as well; however, instead of hiding, he chose exile. From Miami, he expressed a different position than that of Primero Justicia and MUD.
"Venezuela today is a country with a dictatorship and where there is no democratic exit," he told CNN. "The dictatorship was advancing, and today I say with pain in my heart as a Venezuelan: there is no possibility of a democratic exit."
What the mayor said contrasts with the views of the MUD leaders, who have argued for the positive effects of a vote, despite the fact that Venezuela is subject to an authoritarian regime.
"It is better that we know the reality and  start making proposals based on that," he said, "rather than continuing to deceive ourselves."