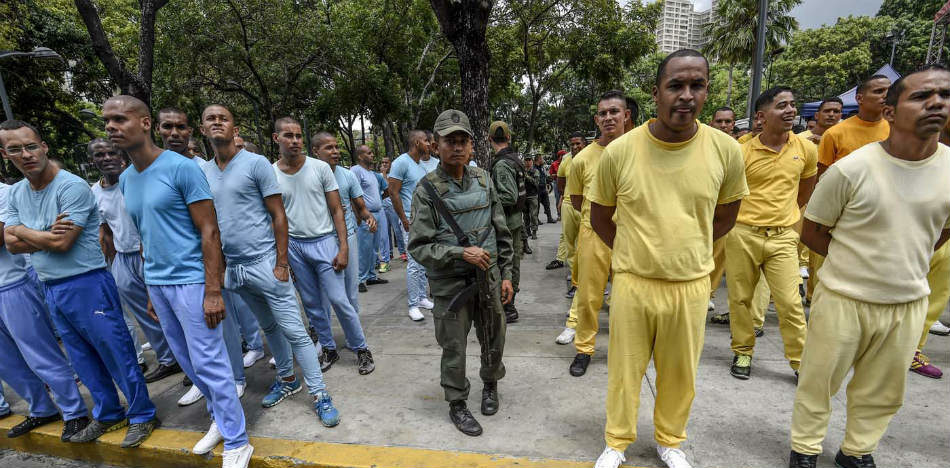 EspañolOn Wednesday, August 9, Venezuelans for Information published a video that shows prisoners cleaning the streets of Caracas under the supervision of troops from the Bolivarian National Armed Forces.
"They are being observed at the moment," said the reporter who filmed the scene. "They are Venezuelans, escorted by members of the Bolivarian National Guard on Libertador Avenue in the Libertador municipality, and you can see how they are cleaning up."
Prisoners were monitored by members of the GNB, who carried shotguns and high-caliber rifles. They wore yellow or blue uniforms, meaning they may have been part of El Rodeo holding center in Guatire in the state of Miranda.
#UltimaHora Privados de libertad limpian las calles de Caracas bajo supervisión de componentes militares #9A #Venezuela pic.twitter.com/EUk9PdiOdU

— VPItv (@VPITV) August 9, 2017
#UltimaHora Prisoners clean the streets of Caracas under military supervision #9A #Venezuela
Some Twitter users compared the measure to previous authoritarian regimes in Venezuela's recent history. Dictator Juan Vicente Gómez, who held power from 1908 until 1935, employed prisoners for the construction of new roads that were part of his highway plan.
Now, something similar may take shape in Venezuela.
With Resolution 9855, the Ministry of Socially Empowering Citizens for Labor announced that the Venezuelan government is considering whether to forcibly "insert" workers from one company into another. That is, if the Venezuelan government should decide, for whatever reason, to lend a prison worker from one company to another company, nothing could be done to stop it.
According to Amnesty International, the new decree amounts is no different than forced labor.
Source: El Impulso