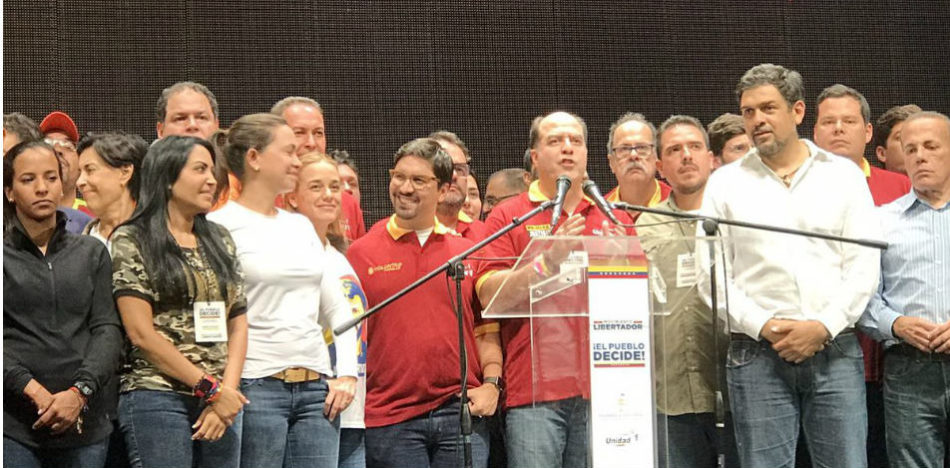 Español
Venezuela's coalition of opposition parties has announced it plans to participate in President Nicolás Maduro's regional December elections despite controversy over whether doing so is the best method of combatting the dictatorship.
The Democratic Unity Roundtable, referred to in Spanish by the acronyms MUD, has spent the last several weeks mired in speculation, debate and public pressure regarding what it will do come December, as Maduro's most recent elections in July — which established a Constituent Assembly to rewrite the constitution —  were denounced by the international community for being unconstitutional and rigged.
"After arduous discussions, we have to decided to inscribe candidates for upcoming vacancies," said Leader of The Radical Cause party Andres Velásquez. "Within the context of a dictatorship, this is a subversive act, as we are going against the the other candidates."
"Maduro's regime is calling for elections. It is our duty to face them, so we will pre-register for an eventual participation in the regional elections. We see this challenge as an additional and continuous form of the glorious fight that has gone on during the last few months."
The leader insisted that the elections will take place as another form of protest, parallel to the struggle that has been underway for the last four months.
"It goes hand in hand with the decision to deepen social pressure," he said.
EN VIDEO | El anuncio de la MUD: "Hemos acordado por consenso preinscribir candidatos para las elecciones regionales vencidas" #9Ago pic.twitter.com/2LPs83fciq

— AlbertoRodNews (@AlbertoRodNews) August 9, 2017
.@AndresVelasqz: "Entendemos este reto como forma adicional y continuada del combate glorioso de los últimos meses" #9Ago

— Unidad Venezuela (@unidadvenezuela) August 9, 2017
Debate began the day of the Constituent Assembly elections when Leader of the Democratic Action opposition party Henry Ramos Allup said he and his party would be selecting candidates for the upcoming December elections. Other smaller parties followed suit, until Popular Will — the party led by political prisoner Leopoldo López, announced they would participate also.
Some parties, including Vente Venezuela party and the Fearless People's Alliance, have still not consented — claiming that participation implies that the dictatorship's electoral process is legitimate — but the statement read yesterday appeared to speak on behalf of every party within MUD.
Vente Venezuela Coordinator Pedro Urruchurtu tweeted that it will not participate in other elections that take place under the same National Electoral Council that orchestrated the fraud at the end of July.
Esto es falso. .@VenteVenezuela no postuló candidatos para las elecciones regionales. No más elecciones con este CNE. https://t.co/TrMpP3mTA3

— Pedro Urruchurtu (@Urruchurtu) August 9, 2017
Cómo les duele q @MariaCorinaYA y @alcaldeledezma sean voces d la conciencia. Incoherentes y oportunos uds,postulando candidatos con esteCNE https://t.co/6TsPtXZ99E

— Pedro Urruchurtu (@Urruchurtu) August 9, 2017
This is false. #VenteVenezuela did not present candidates for regional elections. No more elections with this CNE.
How this pains  @MariaCorinaYA and @alcaldeledezma they are the voices of our conscience. You who have nominated dandidates with this CNE are opportunistic and inconsistent.
@VenteVenezuela no aprueba la participación en las elecciones regionales, porque consideramos que no responde al mandato del #16J. Saludos

— Vente Venezuela (@VenteVenezuela) August 9, 2017