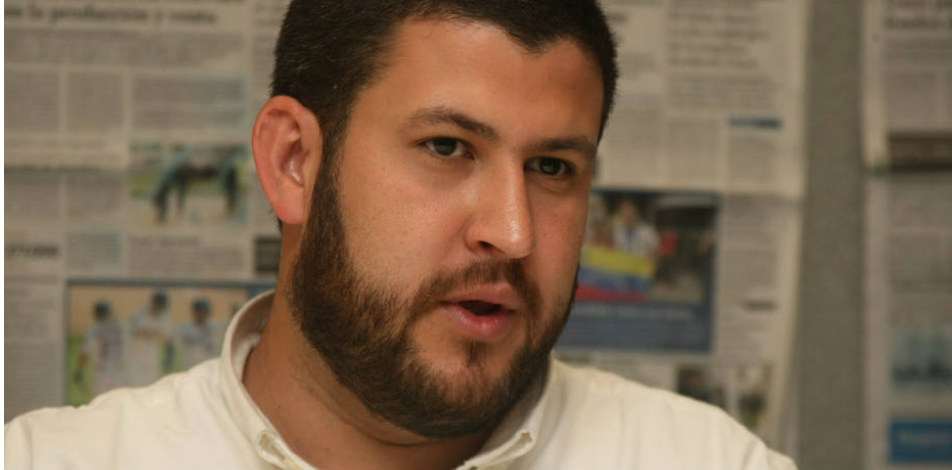 Español Venezuela's Supreme Court ordered for the arrest of David Smolansky, the Mayor of El Hatillo and a member of the Popular Will party, this Wednesday August 9.
"The constitutional chamber of the Supreme Court in a joint presentation of the judges and magistrates that comprise it, declared that David Smolansky is being held in contempt for his actions as mayor of the municipality of Hatillo in the Bolivarian state of Miranda," a statement from the court read.
Smolansky was charged with 15 months in prison for failing to fulfill his duties as mayor of El Hatillo, as well as for "his absolute lack of conformity with the established rule of law." Smolansky was also banned from leaving the country.
Salió mi número

— David Smolansky (@dsmolansky) August 8, 2017
Tweet: My number came up. 
Sala Constitucional del TSJ sanciona con 15 meses de prisión a Smolansky

— TSJ Venezuela (@TSJ_Venezuela) August 10, 2017
Tweet: The constitutional office of the Supreme Court charges Smolansky with 15 months in prison. 
The Bolivarian Intelligence Service was sent to arrest Smolansky, with plans to keep him in their El Helicoide headquarters in Caracas, where there have been strong allegations of torture.
Smolansky neglected to prohibit legitimate and legal protests against the regime in his municipality, arguing that the right to protest is protected in the nation's constitution. According to the Maduro regime, he had a mayoral duty to prevent protesters from shutting down the streets of El Hatillo.
This is the fourth mayor to fall victim to the Supreme Court's rulings since the end of July, and all for similar reasons. On Tuesday, August 8, the Mayor of the Chacao municipality Ramón Muchacho was also dismissed and sentenced to prison. He immediately went into hiding.
Mayor Gustavo Marcano of Diego Bautista Urbaneja, in the state of Anzoátegui, also had an arrest warrant issued to the special forces. Alfredo Ramos of Iribarren, in the state of Lara, was also was stopped by Sebin at the end of July with similar orders from the Supreme Court.
Source: TSJ