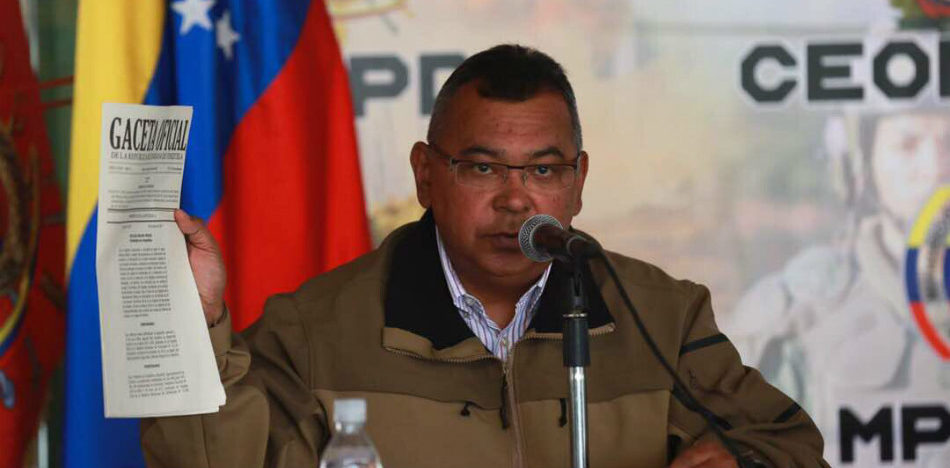 EspañolVenezuela has banned all public demonstrations, Minister of Interior and Justice Néstor Reverol announced this Thursday, July 27. The announcement comes just two days before Nicolás Maduro's dictatorial regime will convene a Constituent Assembly to rewrite the constitution, which has caused international outcry.
"Public meetings and demonstrations, concentrations of people and any other acts that may disturb or affect the normal development of the electoral process are prohibited," Reverol said.
https://twitter.com/NestorReverol/status/890637094560956417
Nestor Luis Reverol
@NestorReverol
Public manifestations and gatherings that could disturb the electoral process to take place between 28Jul-1Ago are forbidden.
The Ministry of Interior Relations and Justice threatened those who "organize, support or instigate the carrying out of activities aimed at disrupting the organization and functioning of the electoral service or the social life of the country will be punished with imprisonment of five to 10 years."
The completion of the Constituent Assembly is scheduled for Sunday, July 30. The process has been called illegal by the Venezuelan opposition because the current constitution stipulates that the concept must first be submitted to a public vote.
Opposition leadership has said it will do everything possible to prevent the assembly from being carried out, as it would most likely establish a system of government that keeps Maduro's regime in power. That will now be much harder to do with all protests banned during the assembly itself.
"Reverol makes 'official' a decision that was made in April: prevent the people from protesting and organizing," Deputy and Member of the Voluntad Popular party Juan Andrés Mejía said. "Reverol finally expresses what they have been trying to do for so long: prohibit the right to protest. The good news is that we will not respect that."
Venezuela's opposition has called on citizens to demonstrate against the dictatorship nonetheless in what is being called "The Taking of Venezuela."
A partir de mañana? Y cuando ha estado garantizado nuestro derecho a protestar? Tienen 4 meses reprimiendo y matando al pueblo! https://t.co/x7kQaazodZ

— Juan Andrés Mejía (@JuanAndresMejia) July 27, 2017
Juan Andrés Mejia 
@JuanAndresMejia
Starting tomorrow? And since when has our right to protest been protected? They have been repressing and killing people here for 4 months. 
ATENCIÓN: Frente a otra violación de los derechos del Pueblo plasmados en la Constitución,mañana será la Toma de Venezuela y no CCS! https://t.co/PdReriv8oV

— Henrique Capriles R. (@hcapriles) July 27, 2017
Henrique Capriles R. 
@hcapriles
ATTENTION. In light of another violation of the human rights in the constitution. Tomorrow will be the taking of Venezuela. 
Es una grosera violación ala Constitución y una usurpación,que un ministro anuncie que ha "suspendido" temporalmente el derecho a manifestar

— Allan Brewer Carias (@arbrewercarias) July 27, 2017
Allan Brewer Carias
@abrewercarias
It is a gross violation of the constitution that the government usurp our rights by anouncing a "temporary" ban on public manifestations.