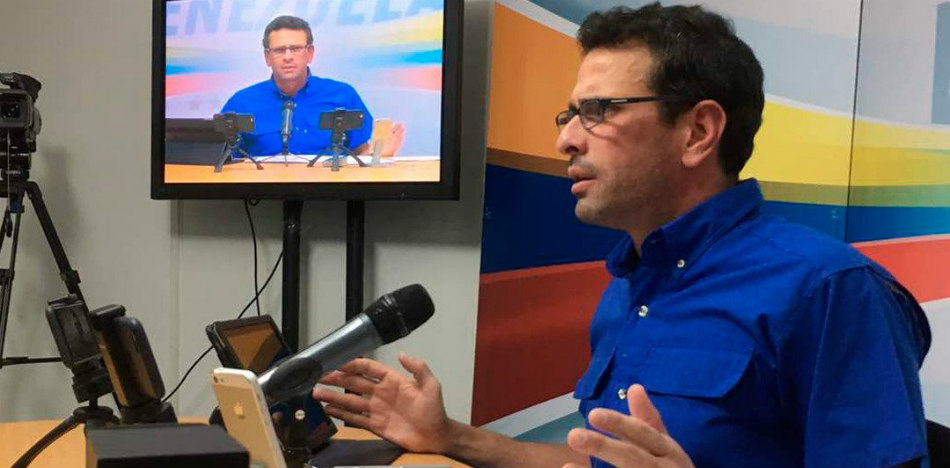 EspañolThe referendum in Venezuela saw over seven million people turn out to vote, in what was ultimately a landslide outcry against dictator Nicolás Maduro's regime — but not everyone was so happy with the opposition's reaction to the outcome.
Governor of Miranda and opposition leader Henrique Capriles said he didn't think July 16 was "zero hour" for the dictatorship, as his colleagues in the Democratic Unity Roundtable claimed. Congressman Freddy Guevara called for a national strike for next Thursday, but Capriles said that reaction is not "sufficient."
"Are the announcements made today in line with what the Venezuelan people want?" He asked during a live broadcast. "I feel that the protest plan is insufficient, but I respect and accept the decision of the Democratic Unity Roundtable. It's been a long time since a strike had to be carried out."
Capriles said he wanted opposition leaders to better think about how they should react to the referendum, so that actions moving forward can best reflect the people's desires.
This Sunday, July 16, millions of Venezuelans went to private voting centers to express their rejection of the National Constituent Assembly — which aims to rewrite the constitution and keep Maduro in power — to ask the Armed Forces to adhere to the constitution, and, ultimately, to demand that the National Assembly form a transitional government. The leadership announced that, following the referendum, all stages of protests against the Maduro regime would carry forward.
However, during the announcement of the results, the leadership did not make any such proclamations. Instead, it postponed the decision until Monday. Then, in the afternoon of July 17, they said the next protest — that national strike — would take place three days later.
It wasn't until Friday that they said the National Assembly will be appointing new judges to the Supreme Court, during which neither Capriles nor Vente Venezuela Coordinator Maria Corina Machado were present.
.@hcapriles: "Nuestras actuaciones debemos colocarlas en base a las emergencias y demandas que vivimos" #ContactoCapriles

— VenezuelaSomosTodos (@ComandoSB) July 17, 2017
.@hcapriles: "Este país necesita un cambio profundo y que las demandas del pueblo sean atendidas" #ContactoCapriles

— VenezuelaSomosTodos (@ComandoSB) July 17, 2017