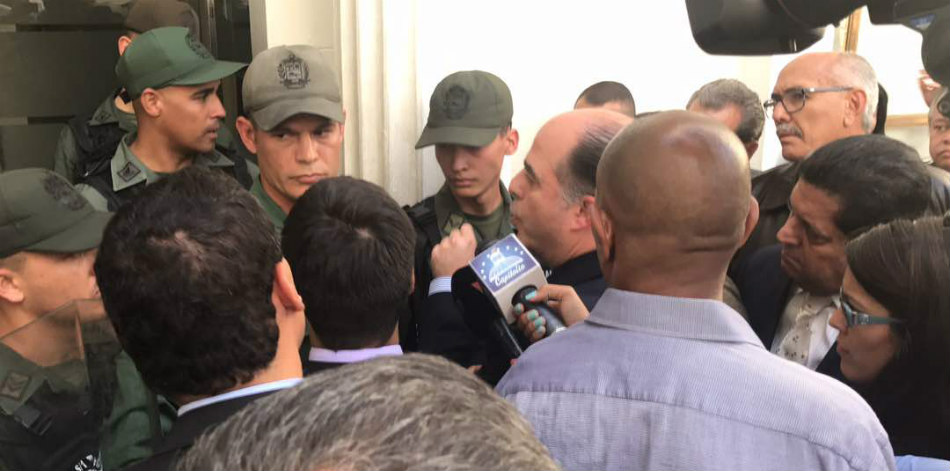 EspañolVenezuelan army officials and paramilitary groups in support of Venezuelan dictator Nicolás Maduro and his regime swarmed the country's National Assembly building Tuesday, June 27 and attacked several congress members and journalists.
The Bolivian National Guard allegedly delivered packages with the seal of the National Electoral Council on them to the Legislative Palace around 5 p.m. local time. Paramilitary groups — often referred to as "collectives" — demanded to know what they contained, resulting in violent confrontations inside the building and out.
ÚLTIMA HORA | Captado en cámara: Agresión de la GNB contra diputados en la AN: Militares ingresaron cajas del CNE al Parlamento #27Jun pic.twitter.com/DoDz7oM9pz

— AlbertoRodNews (@AlbertoRodNews) June 27, 2017
Tweet: HAPPENING NOW. Caught on tape: GNB aggression against parliamentarians at the National Assembly. Armed Forces brought National Electoral Council packages to the Parliament building.
Congresswomen Delsa Solórzano and Olivia Lozano and Congressman Winston Flores were attacked with helmets when they tried to stop the ballot boxes and machines from entering the building.
Congress members demanded that the Command of the National Guard located in the building — which has a legal obligation to defend them — give an explanation for what was happening. Colonel Lugo, in charge of the Command, did not answer.
Around six in the afternoon, the National Assembly's twitter account said that groups linked to the ruling party were aggressively trying to enter the palace. Congressmen were attacked from outside with explosives and mortars.
Afectos al oficialismo han lanzando 10 explosivos, tipo mortero, dentro del Palacio Federal Legislativo

— Asamblea Nacional (@AsambleaVE) June 27, 2017
Tweet: Government-supporting groups launch 10 explosives, mortars, inside the Federal Legislative Palace.
Colectivos violentos régimen lanzan cohetones a jardines Palacio Federal Legislativo mientras malandros uniformados gn permanecen impasibles pic.twitter.com/gTBkBKrkfR

— Henry Ramos Allup (@hramosallup) June 27, 2017
Tweet: Violent regime groups launch explosives toward the Federal Legislative Palace while those in National Guard uniform remain still.
The paramilitary groups assaulted and threatened the legislators who, just minutes before, were holding a session inside the palace. At 8 p.m., officials were still inside the building because the paramilitary group would not let them leave.
At 10 p.m., officials still remained in the building as paramilitary groups continued to threaten and attack the building from the outside, according to sources close to the PanAm Post.
ATENCIÓN: A esta hora (8:28 PM) paramilitares mantienen secuestrados a diputados en sede del Parlamento. #27J

— Revista OJO (@RevistaOJO) June 28, 2017
7:35pm diputados y empleados de la Asamblea Nacional continuamos secuestrados por colectivos dentro de las instalaciones del Palacio

— Asamblea Nacional (@AsambleaVE) June 27, 2017